The B58 heart that sets the 2017 M240i apart for int's pre-revamp M235i correspondent has been nothing short of a blessing for the aftermarket world. To put things shortly, the fresh 3.0-liter straight-six brings the M Performance car extremely deep into M2 territory, which, as you can imagine, sounds like music to aftermarket developer's ears.
And while we've already
shown
you straight-line battles involving the M240i and the M2 that have surprising results, we are now back on the topic.
In theory, we shouldn't throw such a massive spoiler at you, but there's simply no gentle way of putting it: the tuned M Performance car in the piece of footage at the bottom of the page walks all over the also-tuned M2.
The pair of boosted 2ers dukes it out on the
German Autobahn
, so the drivers can push things all the way. And the guys manhandling the Bimmers take full advantage of the no-speed-limit rule, since they go for a race that involves sprinting from 80 to 250 km/h (make that 50-155 mph).
Of course, we must discuss the tuning bits and bobs fitted to each car. Truth be told, the aftermarket balance seems to be tipped towards the M240i.
To be more precise, the M Performance model has been gifted with a BMS air intake and a custom exhaust, with JB4 software keeping everything under control. As for the
M2
, this features HJS-supplied sport cats and a BMW Performance exhaust, but we get no mention of an
ECU
remap.
And, as explained in the Instagram post you can find below, the gym visit means the M240i now allows the driver to play with 441 hp and 559 Nm (405 lb-ft).
And while we don't have the output numbers for the M2, we'll mention that the two went for a two Autobahn runs, all to ensure the result is relevant.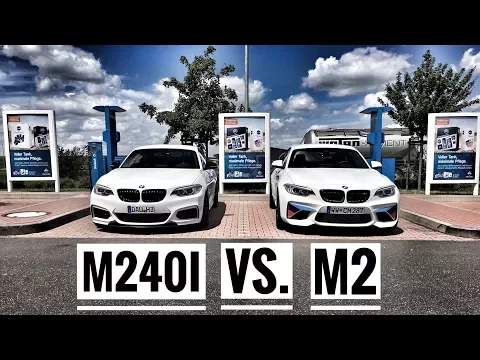 Today we measured my M240i on the @mcchipdkrcom dyno with 441 HP and 559 NM! Not that bad for a little 2-series 😁 #bmw #f22 #m240i #b58 #2series #daily #DAUH3 #car #auto #carporn #dyno #turbo #photography #straightpipe #custom #exhaust #bms #jb4 #black #white #beauty #germany #2017 #wheelrs #lifestyle #potd #workhardtplayhardt