Yiannimize is one of the most famous people in the UK custom car industry thanks to his well-executed vinyl wraps. The guy is also a huge supercar nut and just took delivery of a Lamborghini Urus.
Up until now, there was really no reason to have two Lamborghini unless you were a passionate collector, since the V10 and V12 models do similar things, just at different price points. But the Urus completely changes the game. It's a family four-door with a twin-turbo engine, an off-roader that can also play on the track.
Europe's 1% is currently competing to see who can make his/her Urus stand out more, and Yiannimize did a pretty good job with matching wraps for his two Lambos.
Chrome wraps aren't as popular right now as they were a few years back. But it just means that one comes out, it's even more brash and in-your-face. The turquoise color chosen here makes you look and wonder which Middle Easter sheik it belongs to.
We could have just shared a couple of photos and be done with it. But we decided to delve a little deeper and found a video detailing how the wrap was carried out. While the Urus might strike some as just another
SUV
alternative, its design is rather intricate, which made wrapping it rather time-consuming. The back end alone required several hours to finish. The team had to take both bumpers off the car to work on them, as well as the rugged cladding around the wheel arches. Also, you might be able to spot that it's been fitted with custom 24-inch black wheels.
A chromed Lamborghini is ostentatious. But the color is just what the Urus needs for that touch of Lambo madness that it was lacking. Driving these two through London together would surely result in tens of spotting videos popping out on YouTube.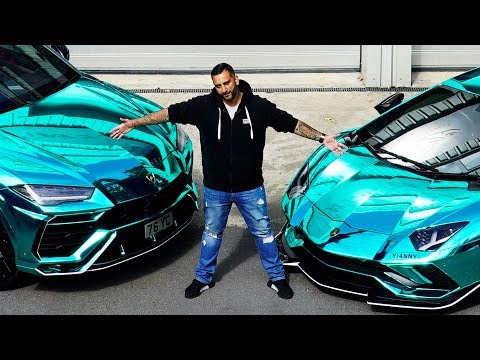 Double Nero combination in uniform. Contact us for Bodykits and wheels for the Lamborghini Huracan, Aventador S and now Urus... #nerodesign #bodykits #wheels #lamborghini #aventador #urus Partners @urbanautomotive @yiannimize