Even though the pre-facelift Mercedes-Benz E63 AMG from 2012 and the Tesla Model S are two species of vehicles so different that they shouldn't even be called competitors, their overall performance specs and dimensions would suggest otherwise.
One is a rear-wheel drive executive sedan powered by a twin-turbocharged V8 with 525 hp and 700 Nm (516 lb ft) of torque in its non Performance Package guise, while the other one is a 5+2 seats executive hatchback powered by an electric motor with 416 Imperial hp and 600 Nm (443 lb ft) of torque.
Even though the Tesla Model S Performance is much heavier than the
AMG
, both cars have similar naught to 100 km/h (62 mph) times, making them rather close competitors on the drag strip.
The following video doesn't show the most fair race in the world, though, as the 2012 E63 AMG isn't exactly stock, but a 650 hp Renntech-tuned monster. Even so, comparing the 12.4 seconds time of the Tesla in the ¼ mile with what the same Mercedes-Benz did back when it was stock, we can see that the electric car would have lost anyway.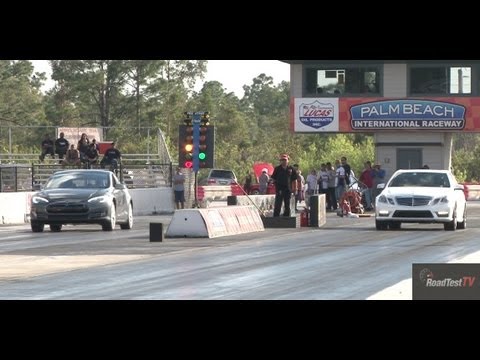 The following video shows the same AMG back when it was stock, still posting a faster time than what the Tesla Model S did.