US President Joe Biden and his Chinese counterpart Xi Jinping had their first in-person meeting in over a year at the Filoli Estate near San Francisco. At the end of their discussion, Biden complimented Jinping's limo.
The luxobarge is a modified Hong L5, which is standardly a 20-foot sedan that the Chinese want to scare off Rolls-Royce Phantoms and Mercedes-Maybach S-Classes with. But the one used by the Chinese head of state is a stretched version of the car built by the Hong sub-brand of the state-owned FAW Car Company.
When showing Jingping out, Joe Biden set his eyes on the Chinese extra-long limousine Hongqi L5. 'Hongqi' is Chinese for Red Flag,' which does not come as a surprise.
"
That is a beautiful vehicle,
" Biden told his Chinese counterpart and had to wait for the translator to do her job to get a reaction. Jinping thanked him, told him it was the Hongqi, and invited him to take a look inside.
Biden could not miss the opportunity to brag about his own limo. "
It is like that Cadillac we have over there
," he said to the Chinese president. "
Do you know what they call that car? They call it The Beast
," he said and made Jingping laugh.
The Chinese president brought his Hong L5 to San Francisco all the way from Beijing for the meeting with Joe Biden.
The Beast is wild, indeed, but so is the Hongqi
Details about the state limousines are often scarce, considering that pretty much everything about them is supposed to be top secret. But what we do know is that the
Cadillac
in which the POTUS is chauffeured around is built on the heavy-duty GMC TopKick truck platform.
The Beast made its first public appearance in 2018 with Donald Trump on board. Joe Biden has been using it since the moment he arrived at the White House, in January 2021.
It is powered by a Duramax diesel engine, but we can't possibly speak of efficiency, since it weighs around 20,000 lbs (9,172 kg). Biden calls himself "a car guy" and owns a 1967 Chevrolet Corvette.
Meanwhile, the stretched Hong L5 that Xi Jinping travels in is the first-generation model and is powered by a turbocharged 6.0-liter V12 that is not available in the lineup of the second generation for the moment. The Chinese limousine weighs about 7,000 pounds (3,175 kilograms) even before it gets the layer of armor.
The
new-generation production version L5
starts at 5 million yuan, which translates into $693,414. Strangely, the Chinese call it "
a car for everyone
," but it is obvious that the price says different.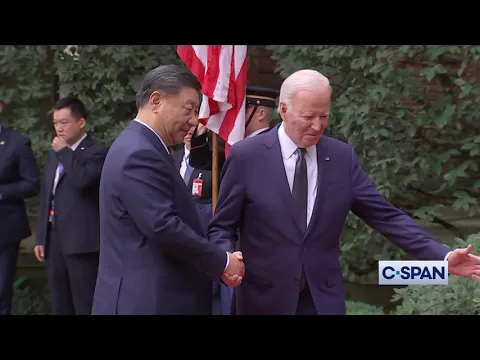 Biden: That is a beautiful vehicle
Xi: Yes, this is Hongqi#Hongqi pic.twitter.com/XOXfBwVrWf

— Jason (@Jas0nYu) November 16, 2023