Now that the holiday daze is finally (hopefully) over and you've had due time to analyze and process every little detail show in the latest Grand Tour special on Amazon Prime, maybe you were wondering what happened to Jeremy Clarkson's modified Bentley.
On the latest
The Grand Tour
special, the three hosts, Jeremy Clarkson, James May and Richard Hammond, travel to Madagascar for a little treasure hunt, with an automotive twist. They start off arriving in Reunion in their own cars, a 2014
Bentley Continental GT
for Clarkson, a
Ford Focus RS
for Hammond, and a
Caterham Seven
for May.
In order to complete the quest, they have these
cars customized for off-road
, with Clarkson getting the MFB Continental, with the B standing for Beast and MF for... well, you can imagine what that stands for. Following reports that, once production was over, this off-road beast was taken to the scrapyard and very unceremoniously crushed, YouTuber Alex from Grand Tour Nation did some digging to find out the truth. Surprisingly, it's been saved.
Bentley Motors' Head of Product Communications Mike Sayer actually updated fans about the MFB Continental one month ago, but his tweets are just now getting the media attention they deserve. In chats with friends and followers, he confirmed that Bentley was involved in the production, even though producers themselves handled the conversion.
Bentley was brought in right at the end, to ensure that everything was running smoothly. It also provided the original car, a 2014 GT that had been previously used as a press car.
Once shooting was over, Sayer revealed, Clarkson decided to keep the car because he liked it so much. He had it shipped back to the UK, where it arrived after a long time, but he was in for a major disappointment. The Driver and Vehicle Licensing Agency (DVLA) informed him that, since the car had been developed as a test mule, the law said it had to be destroyed once it was no longer used for the purpose it had been created for.
Clarkson kept it for a few more weeks at his farm, but then sent it back to Bentley. And Bentley surprisingly decided to keep it: it is currently in a glass case at the Bentley factory in Crewe, Cheshire, England. Access to it is restricted, but passers-by can see it from outside on Pyms Lane road.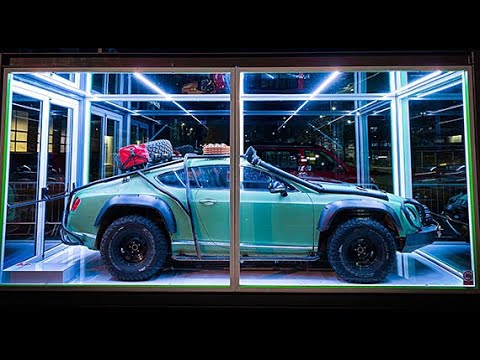 I've done some silly things with Bentleys over the years, but this tops them all. This is the GT we arranged and helped prepare for The Grand Tour special in Madagascar. Have a look on Prime - the abuse this car soaks up is incredible. It survived, and is now back in Crewe... pic.twitter.com/BeCt1Xp63E

— Mike Sayer (@Mike_Sayer) December 19, 2020
Had some requests for a photo of the MFB on display at #Bentley HQ. A pleasure to oblige! pic.twitter.com/0XfVXajj7w

— Mike Sayer (@Mike_Sayer) December 21, 2020