With 360 horsepower and 450 Nm (332 lb/ft) developed from a turbocharged two-liter four-pot, the Mercedes-Benz A45
AMG
can be easily called the hottest of the hot-hatches.
Sure, the number are there, but if you were wondering how they translate in a real-life situation, such as an acceleration from naught to the car's top speed, the guys from Autoblog.nl have released a short video depicting that very same scenario.
Needless to say, trying the feat for yourself without losing your license would require a derestricted road such as the German Autobahn or a racing circuit.
The A45 AMG's official specs state that the most furious small Benz can get from 0 to 100 km/h (62 mph) in 4.6 seconds if using the race start function, while the top speed is electronically limited to 250 km/h (155 mph).
In the YouTube video posted by the Dutch bloggers it seems that both aforementioned figures are a bit different in real life. Though not professionally timed, the acceleration seems to take a bit more than the advertised 4.6 seconds, though not by much, while the supposedly 250 km/h (155 mph) electronic limiter jumps in at 262 km/h (163 mph).
Weather conditions, vehicle loading and road surface can make a lot of difference in the 0-100 km/h (62 mph) sprint, but we can't find any "excuse" for the higher top speed, especially since for a "mere" 2,299 Euros you can upgrade the car's speed limiter to 270 km/h (168 mph).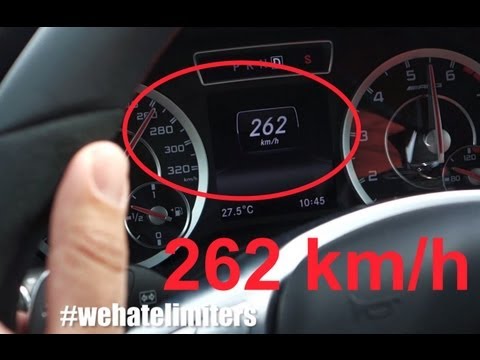 Video via
Autoblog.nl