Valkyrie. That's the name of the Aston Martin hypercar that was known, until now, as the
AM-RB 001
. Regarding the name, the British automaker notes that it follows a long line of cars starting with V, including the Vantage, Virage, Vanquish, and the Vulcan.
Derived from an Old Norse word, valkyrie is the name given to female figures gifted with the power to choose who may die and who may live in battle. Having covered this mythological subject nicely, now's the time to talk about what are the Gaydon-based automaker's thoughts on this particular name.
This quote should answer our curiosity:
"While its name is rooted in ancient mythology, the Aston Martin Valkyrie is a pure expression of modern technology."
The automaker further explains its oddball choice in the following words:
"By bringing together Aston Martin, Red Bull Advanced Technologies, project partner AF Racing and some of the world's leading technology partners, the Aston Martin Valkyrie promises otherworldly performance befitting of its name."
Got that? Don't worry, I didn't neither.
When all is said and done, who cares? After all, we should simply rejoice that Aston Martin is using all its know-how, and then some, to deliver the most high-performing road-legal car in its 104-year history. Simply put, the Valkyrie has all the chances to become Aston Martin's 21st-century magnum opus. Considering that
Mercedes-AMG
is also working on a no-nonsense hypercar, it becomes rather clear that Aston Martin cannot afford to dilly-dally around.
Up to this point, the Valkyrie has been confirmed to feature a 6.5-liter naturally aspirated V12 developed by Cosworth, a 7-speed transmission, a lightweight hybrid battery system, and plenty of aerodynamic trickery. Design director
Marek Reichman
added more fuel to the fire by confirming a Formula 1-inspired KERS system, a 9,500 rpm redline, a top speed of more than 250 mph (402 km/h), and a mind-boggling 4.5 Gs of lateral cornering force.
Deliveries of the Valkyrie are slated to begin sometime in 2018.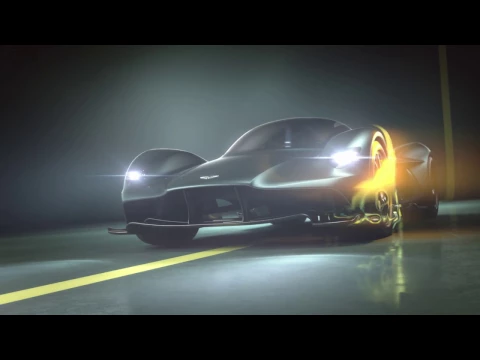 Our baby is named; and what a name! Aston Martin Valkyrie - Joins famous lineage of Aston Martin 'V' cars.

— Andy Palmer (@AndyatAston) March 6, 2017