Remember the shakedown F1 star David Coulthard and motorcycle racer Guy Martin planned recently? We've got hold of footage from the first two of the trials that pitted the Kirkcudbrightshire driver against the Lincolnshire rider, and it looks like these guys had more fun than we thought they would.
There's a strong debate when it comes to who's faster between cars and motorcycles. Usually, a 200 hp superbike will smoke pretty much any supercar out there, at least those that can send less than 1300-1500 hp to the ground.
We've seen superbikes beating supercars in drag races and around tracks almost without breaking a sweat, and even in stock trim. However, when these cars are replaced by an F1 monster, things change a lot, and not to the bike's advantage. And having the two at the Silverstone circuit proved that superbikes are no match for F1 cars.
Coulthard had to lap four times around Silverstone while Martin only had to complete three laps, but even so, the F1 car smoked the Tyco BMW S1000RR. Having four wide tires on the ground proved to be a huge advantage for the car, and the massive downforce the F1 ailerons and spoilers generate made the car stick to the track even when doing 200 km/h (124 mph) around corners.
The dominance of the car was so strong that we doubt a MotoGP prototype could do significantly better against an F1 beast.
Having fun changing tires shows a very skilled Coulthard
The second contest had Guy Martin playing the role of one of Coulthard's pit crew members and using an impact wrench to help the team change tires. His goal was around 2 seconds, and his second attempt got him closer to it. After all, Martin is a very skilled truck mechanic, and even if this was his first go at F1 cars, he didn't make a fool of himself.
The same happened to David Coulthard, whose job, however, was far more complex. He had to screw the rear axle of the S1000RR, remove it, push the wheel forward to remove the chain from the sprocket, then take the wheel out.
With the new wheel, the entire process had to be reversed, and the time attack for this single-man operation was around 18 seconds; that's how long one of Guy's mechanics needs to get the job done. Honestly, even though David was far from the goal, we were thrilled to see him not making mistakes and looking like a guy who knows his way around the pit box.
If anything, both Guy and David could become crew members in each other's teams, even though we'd rather have them on the bike and behind the wheel, respectively.
Stay tuned for more Silverstone fun with these two nice fellows.
Guy and David Racing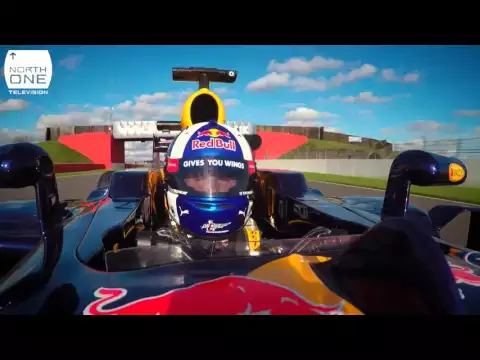 Guy and David changing tires