It's not everyday that we get to watch an impromptu race between a Mercedes-Benz C 63 AMG W204 and a Ford Mustang GT, especially when both models sport engine modifications which in essence should bring their performance in the same league.
The camera car is a Mercedes-Benz C 63
AMG
with only an
ECU
tune, which should give it around 400 hp at the rear wheels on a good day. Not bad for a normally-aspirated 6.2-liter V8 engine, but not exactly the best horsepower per liter ratio either.
The black Ford Mustang GT is fitted with the famed Coyote V8 engine, which apparently had the full bolt-on modifications, enough to give it around 430 hp at the rear wheels.
Despite the fact that the Mustang sounds like it's rabid and it wants to eat the traffic ahead, the two cars should be pretty equal in a race from a roll, with somewhat similar horsepower and weight numbers.
While we don't condone or encourage racing on a public street and in traffic, the short race is a pretty good example of how evenly matched the two cars are in terms of straight line performance.
Even though the Mustang is edging the AMG in terms of engine specs, it seems that the lack of consistency in how its driver is shifting the manual transmission is the main reason behind the conclusion of the short race.
As you know, the C 63 AMG comes in standard with a seven-speed automatic transmission that offers the same gear changes everytime. All in all, it's a pretty good race to watch, since AMG fans will enjoy the win while Mustang fans will definitely enjoy the thundering exhaust sound from that modified Coyote V8.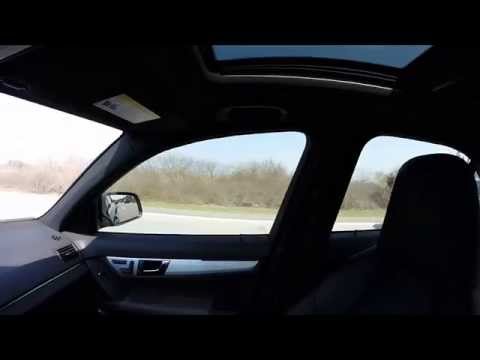 Story via
Benz Boost