With the motorcycle design and technology steadily going more and more futuristic, it's really awesome to see that several manufacturers are still producing retro-looking machines even more – they also seem to be selling well enough to justify the effort.
The purpose of the present article is not to necessarily to make a top of these bikes, and I'd rather say that it is meant to remind riders in search of a new bike about the existence of such nifty machines. With different styles and extremely different performance specs and price tags, the bikes showcased below have one thing in common: the unique vibe of yesteryear's two- and three-wheelers. And what's even cooler is the fact that I know a lot of guys who understood that modern and retro bikes are not mutually-exclusive.
1. Royal Enfield Continental GT
The Continental GT is probably the closest a rider could ever get to the authentic café-racer genre. An iconic brand,
Royal Enfield
has survived the passing of time quite well and it looks like it is on a growing trend, with the GT and more models being currently exported in international markets.
While there are plenty of retro bikes to choose from at Royal Enfield, I decided that the Continental GT is the most emblematic of them all. First of all, it is the latest model the Indian manufacturer surfaced, and it is referred to as the "fastest, lightest, most powerful Royal Enfield in production."
The Indian motorcycle market is savagely dominated by small-displacement bikes, and the 535cc, 29 hp, 44Nm (32.4 lb-ft) machine is a really huge improvement over what used to be the top Enfield bikes, the 350cc-class ones. Classic to the bone, the Royal Enfield Continental GT is not at all shy to embed new technology. It comes with Paioli gas-charged piggyback rear shocks, digital ignition, electronic fuel injection from Keihin, electric staring, and many more.
A new GT Café Racer can run you under $6,000 (€4,400), after Royal Enfield decided to drop the price and make these machines more affordable, in an effort to get a stronger foothold in the European and North American markets.
2. Urals, Urals everywhere!
Ural bikes
go back in time quite a lot, as well, and they're most likely the best-recognized Russian motorcycles around the world. After years of being literally stuck in the old, unreliable designs from the Soviet era, Urals are back with a bang. A rather unexpected bang, to be honest…
The lack of reliability Ural motorcycles were famous for was only compensated by their ruggedness and easy, cheap repairs which made them work again. Changing piston rings on the side of the road was not exactly uncommon, and older riders have fantastic stories for the long winter nights.
However, the last years represent the dawn of a new era for Ural, as the guys running the business understood their bikes must evolve. A slow and steady process before the 2014 model year bikes have been created, developing the Ural refrained to installing decent suspensions and real brakes instead of the really lousy drum ones plagued by disheartening poor performance and unreliability.
2014 brings the first solid overhaul for these retro machines, and a solid step towards better sales figures. Ural started using Sachs shock absorbers, and even their leading link suspension was kept in place as a major old-school symbol, the bikes are now endowed with present-day performance suspension.
The old Russian tap-style steering heads, which became loose every now and then, have been updated, just like the appalling brakes have been replaced with Brembo units and modern rotors. The old, heavy rims are now aluminum and the engine has finally received electronic fuel injection.
All in all, a new generation of much better Ural motorcycles and sidecars is waiting for their customers. It remains to be seen how the engines will fare with the new throttle bodies. If cooling and engine reliability become top-notch, then the Urals can also become the ultimate retro-adventure machine.
Base price for a sidecar version is north of $12,000 (€8,650), with 2WD and other options raising the price a bit.
3. BMW R nineT
The BMW R nineT (
huge hi-res photo gallery here
) is the last production bike to sport the old air-oil-cooled R1200 boxer engine. A very special machine created with customization in mind, the R nineT is also homage to the 90-year-long history of the Bavarian manufacturer. By all means, if you're looking for top-drawer roadster performance and classic looks, it's hard to find a better choice than the R nineT.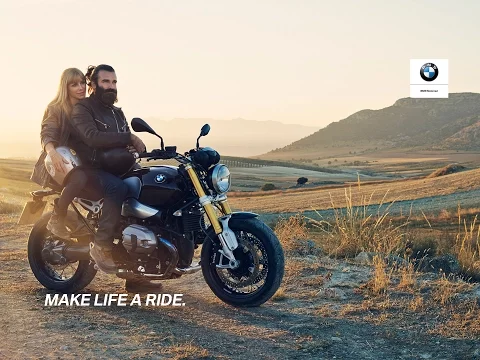 Designed from the ground up as a customization platform, the BMW R nineT offers endless possibilities, but its strongest point is that you don't necessarily have to reach for a hacksaw and welding machine if you want to transform your bike. BMW was clever enough to build a bike that can easily receive aftermarket parts, some of them offered even by the factory. So really, you can bolt-on a new look for the R nineT.
El Solitario's custom build El Impostor is based on the BMW R nineT. Look at it… and prepare to be amazed: several working hours can get El Impostor back to its OEM looks, save the point job. Now, this means business!
Custom seats, for solo or two-up riding, racing exhausts, various body parts, café-racer rear cowls and pretty much anything goes: the BMW R nineT it so versatile that it's only up to its owner's imagination to set or break the limits.
With the proven 1170cc boxer engine that powers the R1200GS, R1200RT and R1200R machines, fun is guaranteed. You can get exceptionally silly with 110 horsepower at your disposal, and you don't need me to tell you how much fun 119 Nm (88 lb-ft) of torque @ 6,000 rpm is. Even more, you get all the perks of riding a modern BMW, including top-drawer suspensions, fancy
ABS
, a sweet 6-speed gearbox and the zero-hassle shaft final drive. Believe it or not, the BMW R nineT can be yours for less than $15,000 (€10,800).
4. Triumph Modern Classics: the Bonnie, the Thruxie and the Scramblie
Much credit goes to the British manufacturer Triumph, as it has maintained in production not one or two retro models, but a total of 5 versions. Whether you choose the Bonneville (with its more stylish T100 and T100 Black versions), the Scrambler or the Thruxton, you're in for quite an emotional ride.
All three models are based on the same platform: a proven 865cc parallel twin engine that delivers 69 horsepower and 69 Nm (50.8 lb-ft), which is more than enough for decent fun. Now, some might say that the Triumph Modern Classics' specs are nothing to die for and they might be right: these machines would instantaneously lose their retro vibe if a 150-hp lump replaced the good-old mill.
Basically, Triumph's offer addresses three types of riders. The Bonneville is the all-rounder bike, a machine you can ride daily to work, use for city errands and weekend outings, as well. With plenty of room for two and easily maneuverable, a Bonnie will provide a swift and comfy getaway in any scenario.
Feel like going a bit more classic and classy? The T100 is there for you, with laced rims and plenty of chrome bling. Plus, Triumph's range of accessories provides instant style points.
The Thruxton is THE café racer, as it brings lower bars, a rear cowl, a miniature flyscreen and old-school road racing mojo to the game. A modern echo of the '60s street racers, the Thruxton is bullseye for retro styling packed with nifty performance and an exceptional riding stance.
Finally, the Scrambler, a machine created for the boys and girls who are not afraid to get a little dirty when leaving the asphalt behind. A retro dirt bike with an equally nimble character on the road, the Scrambler packs the same old-school styling, but the megaphone silencers have been replaced with horizontal headers for more clearance through the thickets. One of the first and most favored upgrade Scrambler owners go for is installing good-old Continental TKC80 knobbies and hitting the trail.
A new Bonneville can set you back with $7,900 (€5,700), while a Thruxton can be yours for $9,100 (€6,550). Scrambler will let you ride it home for the same price. And finally, one cool thing about the Triumph Modern Classics: they all are
EFI
bikes, but the throttle bodies have been molded to look like carburetors. How cool is that?
Catch up with autoevolution next week for the second half of this roundup as we bring you some 5 more cool retro motorcycles.