Money doesn't buy taste, but it sure can buy a whole lot of attention. When you're a rich son of someone in Kuwait you probably spend your summers in Europe driving a supercar on the streets of London and on the French Riviera.
But what if the attention brought by driving an SLS
AMG
whose doors open upwards like the wings of a seagull isn't enough? We have devised a plan for the unfortunate situation in which a supercar driving arab might get overlooked by the army of videoing car spotters that have appeared all over Europe.
Step 1: buy a supercar – in this case, a Mercedes-Benz SLS AMG;
Step 2: put a body kit that serves almost no aerodynamic purpose on it;
Step 3: vinyl wrap the car in a Christmas ball color;
Step: 4 Profit!
One of the first persons to listen to our plan, before it was even conceived, apparently, was the Kuwaiti depicted in the following videos, but we won't take any credit. The red-chrome wrapped SLS was first seen last week in London and yesterday he was spotted somewhere in Cannes, on the French Riviera. All eyes are on it in both cities, as you can see.
Red-Chromed Mercedes-Benz SLS AMG in London: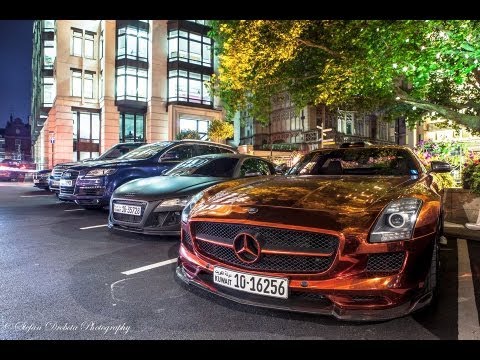 Same car, a week later on the French Riviera: