One of the most talked about features on the new Mercedes-Benz S-Class W222, apart from its amazing safety technologies, is the
Magic Body Control system
.
By combining the main advantages of the
Active Body Control
(
ABC
) system with the also newly-introduced Road Surface Scan function of two stereo cameras that can "see" in 3d, Magic Body Control is pretty much the pinnacle of comfort when it comes to automotive suspension systems.
Essentially, the way that the system works is pretty straightforward. The stereo camera system scans the road ahead and registers its surface and condition.
It then passes the info along to a computer which is able to instantly pre-program the suspension to counteract the undulations in the road as good as it can, giving the driver and passengers an overall impression of a magic carpet ride, hence the name.
Instead of using the usual German precision to illustrate the system in an advertisement, Mercedes-Benz decided to use a more open-minded ad-team, which provided the following humorous but not exactly original commercial: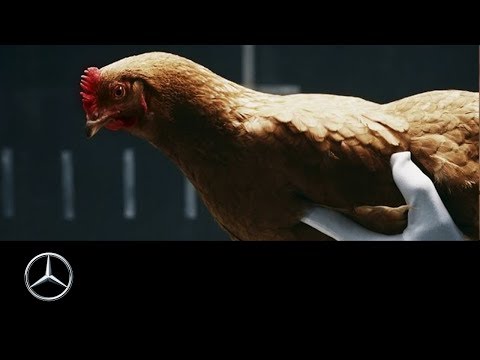 Unfortunately, the "chicken have built-in stabilizers" idea isn't new in advertising, as Fujifilm had already used a similar approach to market their Fujifilm X-S1 bridge camera back in February:
Also, for fans of felines, here is an extra video of a cat with similar "magic" body control: