Burnout videos are not uncommon on YouTube, yet you can count the Bugatti Veyron burnout videos on one hand. For this reason alone, it goes without saying that we had to share the following clip with you. But before you press play, we have to beg the question: who in the world would thrash the bejesus out of an all-wheel drive hypercar?
More specifically, the king of hypercars. As Jeremy Clarkson put it, the Bugatti Veyron is to the automotive world what the Concorde is to commercial aviation. The epic machine featured in the following video isn't the 1,000 horsepower original, but the Bugatti Veyron Grand Sport Vitesse. Therefore, we're dealing with 1,200 horsepower and 1,100 pound-feet (1,500 Nm) of all-wheel drive get-up-and-go.
As if these stats weren't special enough, we must highlight that this Grand Vitesse is a World Record Car Edition. Only eight were ever made, retailing at $2.61 million (€ 2 million). Who would light up all four tires of such an exquisite machine, especially when you consider that the special rubber costs $42,000 a set?
We don't know who the owner or the driver is, but we do know this - the multimillion dollar hypercar was paraded on a promotional tour by Trust International, a leading value-for-money brand that manufactures digital lifestyle accessories. From camera holders to home alert systems, these guys do it all. From a petrolhead's point of view, it goes without saying that Trust's marketing budget is money well spent.
Doing the smoky stuff in a car is usually viewed as an act of hooliganism, yet keen drivers know better than that. Performing a proper burnout is tougher than most imagine it to be, as it requires a perfect mix between balance and control. But with all-wheel drive vehicles it's even harder to get a burnout right. Spoiler alert: the driver of this Bugatti Veyron gets it right. Now let's give this man a big round of applause!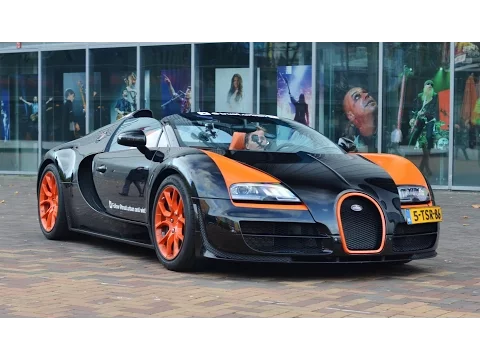 You can spot my autograph in front of the Mediamarkt Arena |#DutchBugs