The 110th anniversary of the Monte-Carlo Rally is just around the corner, as the event is scheduled to take place January 18 through January 24, in close proximity to Sebastien Ogier's birthplace. Preparations for the rally have already begun, with teams flocking in to test the waters ahead of the event.
2020 has been quite a good year for
Toyota
Gazoo Racing WRC, with
Sebastien Ogier
claiming the title and Elfyn Evans finishing close behind in 2nd place, both driving the Toyota Yaris WRC. 20-year-old Kalle Rovanperä, one of the team's younger talents, was also close by, finishing the season in 5th.
The 2021 season of the World Rally Championship is set to take off in less than a month from now, and even though we won't be seeing the all-new GR Yaris WRC in action, as that project has been set aside due to several reasons, it's still always exciting to see some of these cars doing what they do best, especially on roads that are covered in snow.
Toyota couldn't obviously let go of the French rally driver, who is now at his 7th title in the series and only two titles shy of
Loeb
's record of nine World Championships. So the Japanese have renewed Ogier's contract for 2021, alongside some other team changes like Latvala's switch to team principal.
Sebastien Ogier was spotted testing the car ahead of the event, and it seems that the new layout for 2021 will be quite different than it was in previous years. Almost 85% of the route has been changed, alternating classic stages and new sections.
According to
Toyota Gazoo Racing
, the Yaris WRC has got a maximum output of 380 horsepower, coming from that little 1.6-liter engine, and weighing just 2,623 lbs (1,190 kg). This car is definitely a force to be reckoned with, as you'd expect from any WRC spec machine.
These videos were recorded during a test session, so we do expect to see increased speeds during the actual race. Undoubtedly, they will leave us once again in awe of their skills and commitment, especially given the tricky conditions they're facing down the road.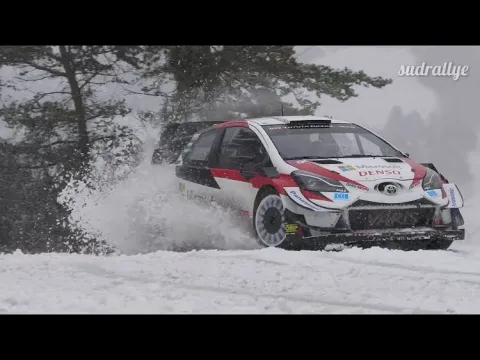 [https://www.youtube.com/watch?v=5r2LnUwl1DM]