Probably the only two things that 'normal' people know about a little corner of the world called Korea is that there was a short dictator called Kim Jong-il who has ruled North Korea with an iron first, and probably that they make comedies and dramas (read soap operas) there. In fact, you probably found this article while Googling for Kim Jong-il parodies, but stick around because there's more they have to offer.
From humble beginnings and from the ashes of the war that divided the nation in two, rose an automotive industry that could potentially challenge Japan's in the future. Korean automakers started life as assemblers of parts imported from Japan or the United States, their automotive industry there is now the fifth largest in the world by volume.
Every day, we take a snapshot of the automotive industry for you, but that only shows where it is and not how far it's changed. US consumers are starting to prefer compacts over midsize vehicles, Saab is going under and Toyota isn't looking like its former self anymore. As for the Korean automakers, well, they are like the new Japanese automakers for the 21st century.
Through the first 11 months of 2011 to November, Hyundai and Kia's combined sales in the US amount to 1,037,028 cars, which is basically more than VW, Audi, BMW, Mercedes and all the other European automakers selling cars Stateside combined. And I don't know about you, but that sounds like quite the achievement.
In Europe too, it feels like Hyundai and Kia have put a competitor on the market for just about any domestic model. From MPVs to coupes, they pretty much have it all. Don't believe me? Just pair them up against... say Volkswagen.
Want a Tiguan, you can buy a Hyundai ix35, if the bigger Touareg
SUV
flips your boat there's a new ix45, Gold Variant (estate) or i30 cw it's your pick, and they even have the cute little Veloster with its asymmetrical doors to face off against the Scirocco. At the top of the sales totem pole, the Golf VI has to face off against the brand new i30, and there's even world of a hot hatch version coming next year. Now I will admit that the old i30 is nowhere near as cool as a Golf in Europe, a video of VW Martin Winterkorn, Chairman of the Volkswagen AG, looking all impressed with the the Hyundai hatch has created quite a stir. They must be doing something right!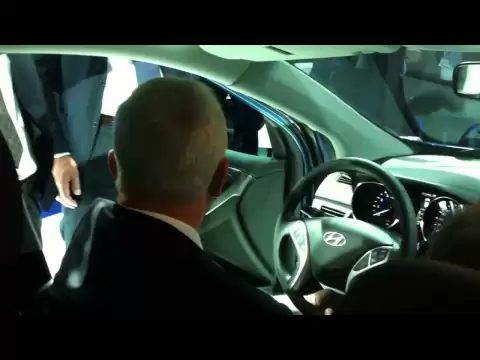 Just like sportscar makers have become obsessed with top speed, so too has VW become too focused on the options list not on offering true budget motors. You're never going to hear of a Kia being much, much better than the latest VW or Audi hatch, but if you could count the number of customers that are simply "satisfied", you'd realize they are doing a good job.
Sure, the automotive world won't notice their achievements, since they can't put a new i30 next to the latest Lamborghini supercar on the cover, but that hasn't stopped the Koreans from winning design awards for their expressive-looking econoboxes.
Yes, I know that comparing Kia and Hyundai to the some of the biggest names in the business is a sort of a stretch. But, there's a gap in which the underdogs have a lot to gain. The strong yen is putting a clamp on Japan's car exports, forcing them to switch to new production facilities across the world. The new Toyota Camry might not prove to be the US sales king it once was, and they are even forced to cut extra content in order to keep prices as low as possible.
What's more, Hyundai and Kia seem to have a much more sound business attitude, as they view each other as market rivals, not like VW and its sub-brand who are constantly pussyfooting to ensure there isn't market overlap. With such an attitude to selling cars, how can you not root for them!
To put it simply, the US market really needs affordable and efficient compact models, especially should the nation's finances become tight again, and the Optima hybrid is one of the best looking. In fact, both Kia and Hyundai have design languages that appeal to customers, unlike models models like the new Civic for instance. Sure, there will always be times where the quality comes into focus, and marketing teams have skillfully worked their magic here.
Yes, I know that neither you nor me will ever say "oh heck, I've always wanted that there Kia sedan mode." But the fact of the matter is, the interior quality is there and so are the looks, which is basically what most customers will always want. The Koreans will likely never build something like the Mustang, but I think their hears are in the right place right now.
I'd wager to say that for the first time ever, Korean automakers stand a chance of becoming the new Japanese automakers.. as it were, and while there's still a lot of work to be done, they look ready for the fight.