Always dream big. One boy set out to drive himself from hometown Ogden, Utah, all the way to California to buy himself a Lamborghini because his mother wouldn't. He'd never driven before.
The ongoing lockdown has brought out the speed demons in many countries, but this is not one of those stories. It is, if you will, a story about determination, big aspirations and the importance of problem-solving skills, but also about recklessness and sheer luck. This driver is only 5 years old, as the
Utah Highway Patrol
confirms.
The incident happened on May 4, on a stretch of the I-15, when a trooper noticed an
SUV
weaving through lanes. A traffic stop was initiated and the trooper walked over to the driver, whom he assumed to be impaired. To his shock, he found a 5-year-old boy at the wheel, on the verge of tears, saying how he'd stolen his mother's keys and her car, as he was hoping to make his way to California.
The story doesn't end here, either. Apparently, the boy had gotten into a fight with his mother because she wouldn't buy him a
Lamborghini
. He was driving himself to California to buy one for himself, since she was being so reluctant to help him out. Sure, he had only $3 in his pocket, but at the very least, he didn't let financial considerations stop him from pursuing his dreams.
More impressively, the parents told the UHP that the boy did not know how to drive and had never been involved in an incident of this kind. In other words, this was probably his first time at the wheel and he was able to start the car, make the 5-minute drive to the freeway, get on it, drive some more at about 30 mph and then pull over safely next to the median. That's future professional driver skills right there.
Jokes aside, it's pure luck that no one was hurt. UHP Lt. Nick tells
KSL
that, while impressed with the boy's natural driving skills, parents need to take extra precautions to make sure something like this doesn't happen again.
"If you have a child that might be at high risk to grab the keys and get behind the wheel, you need to mitigate that by some degree by making sure the keys aren't in an easily accessible place, making sure your vehicle is locked and all those things you need to do,"
Street explains.
An investigation will determine whether the boy's parents, both of whom were at work when this happened, will be charged for his joyride.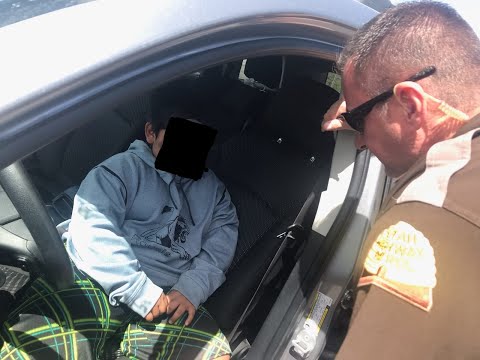 His story is that he left home after an argument with Mom, in which she told him she would not buy him a Lamborghini. He decided he'd take the car and go to California to buy one himself. He might have been short on the purchase amount, as he only had $3 dollars in his wallet.

— Utah Highway Patrol (@UTHighwayPatrol) May 4, 2020