People have been racing the 2015 Tesla Model S P85D ever since the first deliveries started back in December last year, but now the thing has gone official, since the electric sedan has hit that drag strip. Spoiler alert: somewhere within this story, there's a 2015 Dodge Challenger SRT Hellcat.
The P85D and the Hellcat met yesterday, January 18th at the Palm Beach International Raceway. While the 691 hp Tesla played the understated game, wearing what Tesla calls "Solid Black Paint", the 707 hp Challenger showed up in Sublime Green.
We've already seen the dual-motor Model S deliver supercar-level performance up to its electronically-limited top speed of 130 mph (209 km/h), while we've also seen a clip showing a
Hellcat walking a 2015 Chevrolet Corvette Z06
.
Sure, the
AWD
gives the Model S quite an advantage as far as the launch is concerned and, as you'll be able to see in the footage, taking off in a Hellcat is not all that easy at times.
While we'll leave the video to detail the battle between the two icons of internal combustion and electric muscle, we have to talk about the Tesla Model S' figures a little bit.
The thing managed to pull a 11.6 run at 114.6 (184.5 km/h), setting a new record for the fastest production electric vehicle in the world. In case you're wondering what the dual-motor setup does for the 60-foot roll, we'll mention the P85D manages an impressive 1.65s time. As for the 0 to 60 (97 km/h) sprint, this took 3.1 seconds.
For the record, a Challenger Hellcat on street tires will deliver a 11.2 seconds pass at 125 mph (201 km/h). Don't forget to take the human factor into consideration though...
PS: can't wait to see what happens when Tesla releases the so-called Model S high-speed update later this month.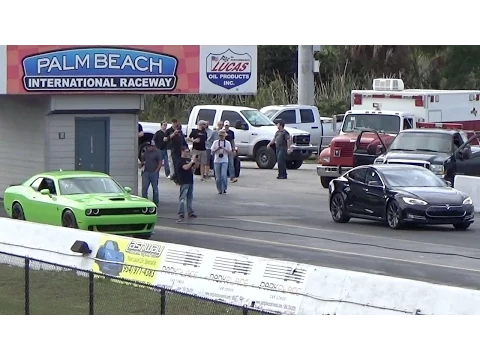 KPTV - FOX 12