Simple, perfect Swedish design combines with advanced technology in the latest concept from Volvo, a car which comes from the heart and soul of the company. Revealed ahead of the Geneva Motor Show debut, the Concept Estate is the last of three concepts created in the run-up to the new XC90's debut. However, it's so much more then that.
When Volvo looks into the future, it does so with a clear sense of its identity and past. The Estate might have a
shooting
brake
body, but it echoes classic Volvo wagon designs, like the old
V70
or the
850
that came before it. In fact, the company even hints this could be their next estate design.
The overall theme of the car, both in and out, is simplicity. It's a beautifully soothing way to deal with a cluttered world. Both a new Volvo design language and the classic
1800 ES
from the early 1970s. Designers chose to cover the long, dynamic body in a
dark brown pear color
and used the 21-inch alloys for contrast. It's almost like an understatement on wheels.
"The 1800-models are iconic Volvos, renowned for their beautiful forms and detailing. However, using elements from their exterior and interior has nothing to do with being retro. We are using these subtle links to a glorious past to create a future in which sheer beauty becomes a recognized part of Volvo's identity," says Thomas Ingenlath, Senior Vice President Design at Volvo Cars.
The Concept Estate is being used by the Swedes to demonstrate their
new in-car control system,
which is designed around a large tablet-like touch screen. We've seen tablets before, but their menues are somehow... better. "The basic idea is to organise controls and information in a perfectly intuitive and user-friendly way. Everything is exactly where you expect it to be, making the drive more enjoyable, efficient, and safe," says Thomas Ingenlath.
In case you missed it, the twin-spoked steering wheel is also a hint to the 1800. The rest of the cabin is
designed to feel like a Scandinavian living room
, so it's covered in the sorts of material you'd find on a durable sofa from Ikea. The materials used include thick, naturally tanned saddle leather from Tärnsjö, inlays made of waxed, naturally aged wood and machined copper. The gear lever is a crystal from Orrefors/Kosta Boda. It's not all serious though, as a hequered black and white wool textile lifts the sober mood.
To conclude, the Volvo Concept Estate is
the last of three beautiful concepts
. Next up, we'll get a production car that takes a little from all of them. The XC90 will be slightly less than the sum of its parts. But this is
not the end
, it's likely the beginning of a whole new chapter in Volvo's history, one which we can't wait to read.
Introducing the Volvo Concept Estate
Introducing the Volvo Concept Estate - interior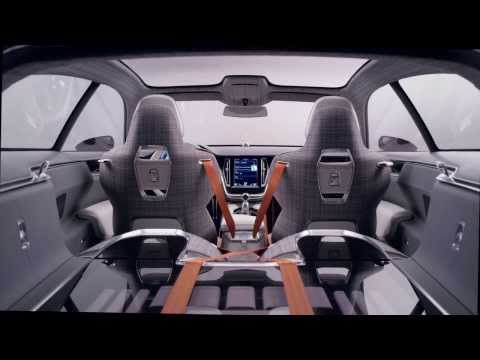 The new in-car experience by Volvo Cars