Hand over a Dodge Challenger Hellcat to a valet and, in many cases, you'll end up discovering stereotypes exist for a reason. Thankfully, SRT is well aware of what can happen when its muscle machine is driven by someone who is simply supposed to park it, which is why the blown Challenger comes with a Valet Mode.
We've seen Tim Kuniskis explaining the feature to Jay Leno while getting a piece of "
You NEVER give your car to a valet
" advice in return (second video below), but how does it work in the real world?
Well, the footage below offers a respectable answer to the question, showing a Hellcat valet parking job that could've easily turned into a small joyride. However, once the temporary driver noticed the mode of the vehicle, he appeared to change his plan.
We have to agree with the owner's explanation on
Reddit
- upon watching the dash cam footage, the man said, "
I'm not mad, But i will say I'm thankful for setting Valet Mode. I have a feeling they would have done a pull or two like said in the video if it wasn't enabled. He pulled the paddle or put the gear selector in manual which is why he found out it was in valet.
"
Despite the dash cam not being hidden, the people who were supposed to stick to parking the muscle car decided to take the scenic route through the lot. Oh, and they also took the time to question the owner's automatic tranny choice.
Even so, the Hellcat owner, who had tipped them and driven away after the episode, decided posting the piece of footage online was the only thing he needed to do. We have to explain the man, who lives in New York City, had driven his Hellcat on a trip to Miami, with the valet moment taking place at Universal Studios.
And we have to tip our hat to a man who chooses not to turn such a moment into the end of the world. Because, as the Muscle Car God knows, such an octane behemoth can easily determine one to become overprotective.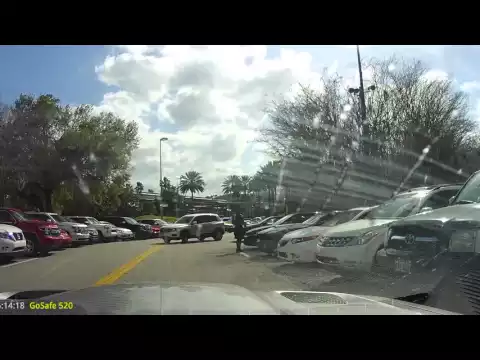 (Jump to the 10:17 mark for the Valet Mode advice)