The Project Valiant is an astoundly-looking Mercedes-Benz G-Class made by the Germans at Alpha Armouring. Apart from looking like it should have been used in World War Z, instead of the dreaded caravan, the car is also heavily armored.
Sure, there are plenty of armored G-Classes all over the world, with some of them even made in-house, by Mercedes-Benz, but not even the military-grade ones don't look as menacing and sheltering as the Valiant.
Since the heavily-modified Gelandewagen has A9/B6 armor protection level from all sides, even the windows can resist for up to three sequential impacts from a 0.357 magnum caliber fired from point blank range.
To prove this, Auto, Motor & Sport Germany went to Alpha Armouring to document a ballistic test and film the black beast being put through the paces on an off-road circuit.
Our German isn't as great as we would like, so at first we didn't know the caliber of the gun used on the rear passenger in the video, but we have a feeling that bullet would have passed through a rather thick wall. [EDIT] Alpha Armouring contacted us and apparently one of the bullets that didn't penetrate the Valiant's passenger window is a 7.62 caliber armor piercing round. Now that's what we call safe.
As you can see from the videos, the interior footage during the test is pretty scary, but the car's two side windows seem to keep any unwanted intruders (such as a speeding bullet) away from the occupants.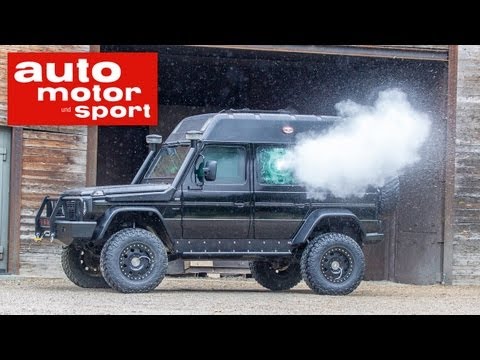 The sequence starting at around 2:05 is mesmerising: