Several reports are saying that the next Tesla Gigafactory, the second in the United States, will be located either in Austin, Texas, or Tulsa, Oklahoma. The good people of Tulsa are doing everything in their power to make sure their city is more appealing to Elon Musk and Tesla.
According to Musk himself, Tesla is
scouting locations for a Gigafactory
where they will build either the Model Y or the Cybertruck. He's also been threatening to move the Fremont, California facility out of the state if local government kept giving him trouble about reopening, but since that matter has been settled and
operations have resumed
, it's safe to say he'll be letting go of that threat.
Either way, Tulsa wants to be the next location for a Gigafactory, whichever it might be. The mayor offered to buy a fleet of Cybertrucks and even posted renderings of one such
Tulsa PD Cybertruck
as visual enticement. There are several groups campaigning to get Tesla's interest, in addition to the now-viral and only half-joking
Big F**king Field
offer that lists potential real estate for the plant.
Now, Tulsa is giving Elon a statue to match his (reportedly massive) ego. Home of the one of the biggest statues in the U.S., the 75-foot (22.8-meter) Golden Driller, Tulsa is now dedicating the Driller to Musk, by making it into his likeness. The Driller, which was built in 1953, represents a stoic oil worker and now stands outside the Tulsa Expo Center.
The city occasionally dresses the Driller up to use as billboard, but this is the first time anything has been done to its face. That "something" is the application of a skin mask that comes in Musk's likeness, but as you can see in the video below, the uniform has also been upgraded to match the occasion.
The message is clear: the people of Tulsa want Tesla there. The irony of using a giant statue of an oil worker to get an
EV
-maker into the city is not lost on them, and they see it as a sign of the changing times.
And while you quietly laugh at yourself at this not-at-all subtle butt-kissery, it might just work.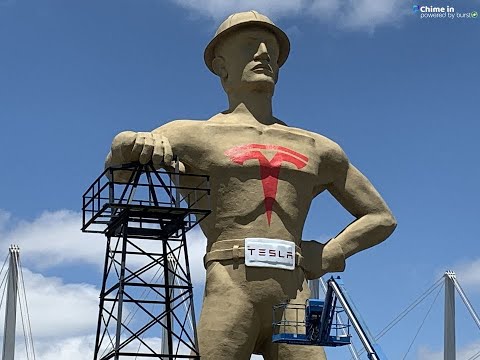 Even worse lol pic.twitter.com/C1fnH2Pzwv

— matt (@taquitoroller) May 20, 2020