Earlier this week, we
showed
you a Porsche 918 Spyder that hit the Nurburgring. And this didn't have anything to do with the official flight that recently saw a Zuffenhausen halo car jumping from one rumble strip to another, being a civilian track day experience instead.
We are now back on the topic, as we want to bring you the onboard footage. Now, before anybody talks about the pace of the hybrid hypercar, we need to drop a detail mentioned in the description of the YouTube video documenting the Touristenfahrten (Tourist Days) experience.
To be more precise, this was reportedly the owner's first Green Hell lap after half a decade. Now, you might wonder about the rest of the man's steering wheel experience. Well, according to the details you can see on the aficionado's Instagram account (we added such a piece at the bottom of the page), the man had put the
Zuffenhausen
halo car through its paces on the track before.
After checking out this lap, we do need to mention one thing for all those who wish to spend time in Nurburgring traffic - due to obvious safety reasons, passing is only allowed on the left!
If we judge by the footage dropped here, this Bridge to Gantry trip (the main straight is missing from this public track day configuration) seems to have taken a little over eight minutes.
And we have to remind you that being cautious will help you avoid the dreaded barrier encounters, so you should always ensure your corner entry speeds match your skill level - here's a Porsche 911 GT3
example
of what can happen when a driver takes things over the limit on the Green Hell.
P.S.: As a little Nordschleife game, you can try to count the Megane RS units this Porscha passes throughout the lap.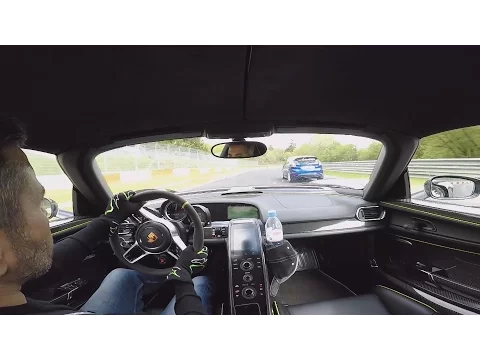 4 wheel drift at the #chicane #spafrancorchamps #perfectbalance #porsche #porsche918 #918spyder #weissach #blacklist