The AMG tuning specialists from Weistec Engineering are making history on the drag strip with their products, and they don't even need to advertise since it's their customers' exploits that do it for them.
The Mercedes-Benz C 63
AMG
in the following drag racing video has been tickled by Weistec and it's not even in its final form yet.
We are talking about a Stage 2 supercharger kit that delivers no less than 681 hp (672 bhp) and 898 Nm (662 lb ft) of torque at the flywheel.
The kit, available for one cent under $13,000, consists of the following:
2.3L Twin-Screw Compressor Module
1000hp Liquid to Air Intercooler Core
High Flow Cast Aluminum T6 Hardened Lower Manifold
High Flow Cast Aluminum T6 Hardened Throttle Body Inlet Y
45mm Boost Bypass Assembly
Billet Aluminum Direct Drive Cradle System
Supercharger Serpentine Drive Belt
Hard Anodized Billet Aluminum Serpentine Idlers
Johnson CM30 30 Liter/Min Intercooler Water Pump
Intercooler Water Recovery Tank
Cross Flow Heat Exchanger
High Flow Fuel Rail System
Molded Silicone Couplers
Power-Steering Reservoir Relocation Assembly
Weistec Engineering Stage 2 Supercharger System ECU Reflash
Keep in mind that there is an option for a stage 3 kit, which includes a 3.0-liter twin-screw compressor module among other things, which brings the flywheel numbers to a staggering 780 hp (769 bhp) and 904 Nm (667 lb ft) of torque.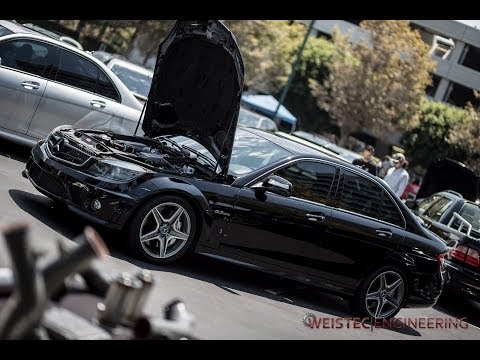 Story via
Benzboost