Back in the late summer of 2013 I wrote a wishful editorial, hoping that the rumored
new-generation Africa Twin
Honda was reportedly planning to manufacture would not follow the 1200cc trend. The new bike, which we might get to see at the EICMA, seems to live up to those expectations, as the first credible sketches published by the German magazine Motorrad show a liter-class machine.
However, the Africa Twin we all knew and loved is no longer an XRV, but it will most likely wear a CRF badge. So, the Africa Twin XRV750 will be reincarnated in the body of CRF1000 machine. Will it still be the same enduring machine that can travel the world and still work fine? Possibly. One thing is certain, though: a lot of guys will miss the v-twin rumble of old.
Now, truth be told, the v-twin love is more of a flavor, if a very tasty, addictive one. The differences between the v-twin and the parallel twin, or Triumph's 3 in-line designs are more a matter of personal taste, and even though there's an unquestionable difference between these engines, when the going gets tough, power, low-end torque and dependability are the only factors that really matter.
As far as rumor has it, it took Honda an almost miraculous encounter with an Austrian globetrotter to start asking real questions about whether a new Africa Twin could be a lucrative concept. Apparently, a Japanese couple met this guy in a big city in Japan and asked where he came from. The two got a staggering answer, revealing that he was circling the world aboard the bike and it was still in great condition.
As one of the Japanese was actually working for Honda, the Austrian obviously asked the fellow why Honda was not building the AT any longer. The legend says that the globetrotter was invited at Honda headquarters and he showed them some sketches of his dream Africana. Whether this mysterious rider had something to do with Stefan Kraft, the guy whose sketch lies on the cover of Motorrad is hard to tell, anyway…
It looks like Honda was very cautious, as developing a new v-twin machine from almost scratch (even though the basis was already a glorious one) was deemed too risky, so the proven platform of the CRF was chosen. It was obvious that Honda wanted an economical bike with plenty of nerve and exceptional maneuverability, powered by a reliable engine and with a lot of potential to do battle with the existing adventure bikes.
Why Honda chose to slot the bike in an intermediate class almost no manufacturer except Suzuki is using can be understood as either an almost empty niche or the express will to not follow the trend, and offering a bike which can actually do serious enduro. I'd say Honda is trying to replicate the success KTM's 950 and 990 Adventure machines enjoyed prior to the Austrian company deciding to go 1200 1190.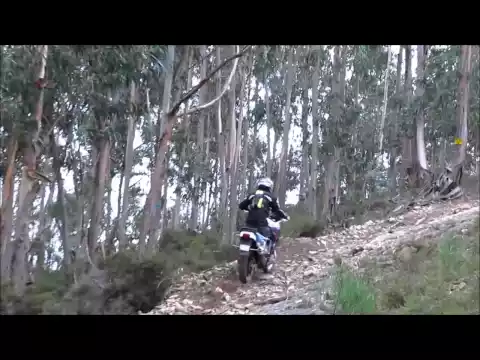 Therefore, the new Africa
Parallel
Twin is obviously a true adventure machine, providing extra displacement, power and nerve than what the BMW F800GS or the Triumph Tiger XC can offer, better long-range touring and asphalt stance than bikes such as the Yamaha XT660 Tenere or the KTM 690 Enduro, while maintaining maneuverability on very rough grounds at premium level, a thing machines like the KTM 1190 Adventure, BMW R1200GS, Yamaha XT1200Z Super Tenere and the rest of the gang (Aprilia Caponord, Moto Guzzi Stelvio or Honda's Crosstourer) can only dream of. Apparently, the under-liter class is the way to go for those who want an all-in-one bike.
Now, the engine is still a mystery. Some say it will be a new, revised version of the Unicam, re-worked for dependable parallel-twin usage. This could be indeed a smart move, as the Unicam offers smaller cylinder heads, a lighter build, with a simpler working principle and fewer moving parts. The former sentence obviously reads cheaper manufacturing costs, a lighter bike and a design which has been proven on a planetary scale.
As the Unicam-based engines are simpler, lighter and cheaper to produce than
DOHC
parallel twins, you don't have to be an engineer to figure out why Honda will ditch the v-twin architecture. And this brings us to another extremely important issue: money!
No matter how cheap or how expensive a bike may be, its manufacturers will always try to minimize production costs and offer the best they can to the customers. If you have some Chinese-based arguments at hand, don't even bother, we're talking about serious machines here. Some fellows have the magic allure and use it to convince customers to sign the big-buck checks.
Harley-Davidson and BMW are the best examples
for a successful recipe to sell increasingly more expensive bikes. People see them, people love them, people buy them, and everybody is happy. Still Honda needs so much more in order to make the new CRF1000 (if this is the definitive name) appealing.
Honda's recipe is not even secret: you need a very reliable bike with decent looks, possibly packed with nifty tech gimmicks off the mill, with a good range of adventure-touring add-ons and optionals, and offered for a price to make people reach for their checkbook on spot. And if you can back everything with a successful motorsport story, then you're all set.
By all means, Honda is on the rise in this area, as the CRF450 Rally machines are back in Dakar after a 23-year-long absence and the initial results were quite promising. Associating the adventure character of the new CRF1000 with the Dakar is probably one of the things we might get to see when the bike comes out. Apparently, even the livery will sport a Dakar/ racing layout, remaining faithful to the CRF's red, though with black accents instead of the motocross CRFs.
Even more, the CRF450 Rally Honda fielded in the 2014 Dakar was the only machine with traction control, with the usage of such a technology said to curb the excessive tire wear, and I could almost bet that
TCS
will be standard on the new Africana. The rest of the electronic gimmicks the 1200cc bikes rely on can be easily ditched, as rather few endure-adventure riders love or need them. Instead of the semi-active suspensions, the CRF1000 might have a new-generation off-road
ABS
, maybe as stock equipment.
Honda's new proper adventure bike is said to tip the scales at 180 kg (397 lbs) dry, and sport a decent 20-liter (5.3 US gal) tank, all with a European price tag reading around €10,000 ($13,835). Whether these will turn out to be true, we might find out in November, if we're lucky. One thing is sure: the legendary Africa Twin will have a successor. And I'm glad to see it's not going to be a fat cow!
And make sure you read the select autoevolution articles in the left of the screen for more cool things.