Sales of drop-top cars have pretty much been cut by half in the last decade due to the arrival of SUVs as lifestyle vehicles and the introduction of the full-size panoramic moonroof. Customers now love being cocooned away from he smog and the sound of busy streets using layers of soundproofing and pollen filters. But can you blame them?
Worldwide deliveries have plummeted to just 465,000 units last year, representing only 0.7 percent of the total number of vehicles. But don't take our word for it, just try and count how many you see in a day. In addition, most convertibles aren't even used with the top down any more, just as objects to give the impression of a wild and young spirit. Yeah, it's pretty much about compensation!
The few young people who are still considering buying a convertible are put off by fear of crash injuries and talk of hampered performance, never finding out what they're missing.
Elvis Presley's BMW 507, Steve McQueen's Jaguar XKSS and James Dean's Porsche Spyder
– convertibles used to epitomize a sense of freedom, of revolution. The Mustang's wing-in-the-hair look was the symbol of a whole generation. Things are never going to be the same, we're sure of that, but we believe technology can compensate by bringing the "wow" factor into the equation. So that got us thinking: which are the most interesting and complex roof mechanisms fitted to modern cars?
To start this story off, we need something with three qualities: brand new, famous and amazing to look at. Frankly, that can only be the
Porsche
911
Targa
, a remake of a German classic that keeps you on the edge of your seat every time it sprints into action. Just like the classic 1965 Targa, the new model comes with a wraparound rear window and a beautiful metallic rollover hoop that makes you want to stroke it. However, half a century ago, you had to take the roof off yourself and find somewhere to put it, where as with this one, everything moves by itself. Watching it in action is as crazy as seeing Buckingham palace open its roof like a football stadium to reveal a missile.
The 911 Targa is 110 kilograms heavier than the coupe and about 40 more than the convertible, and yet it's the one we'd go for. Porsche have done a great job with this model, but they're by no means the first to make an overcomplicated roof.
If points are to be awarded for mass-market success
, than the E93 BMW 3 Series and its successor, the F33 4 Series both deserve some respect. They both have the same type of overcomplicated mechanism that looks like a carefully orchestrated circus act and sell for much less money than the Porsche. Four moving pieces swing into action, folding one on top of the other until…
nothing is left of your trunk space
. For many years, the 3 Series was the best selling premium convertible in America. Could it be that both companies realized its customers want to be blown away by the tech?
Back in the 90s, Japan made more convertibles than probably everybody else, but they've fallen out of love with the idea. Honda S2000? Gone, just like the Eclipse, Toyota Solaris, MR2 and soon to be joined by the Lexus IS C. The cream of the crop from that era is a crazy machine called the
CRX Del Sol, a Civic derivative.
Honda must have been on some type of hallucinogenic substance when they made this thing! The whole rear deck goes up like an aircraft carrier lift, the roof pops up a bit and what we can only describe as little robot hands grab and pull it backwards. Only Japan, the country that invests billions to built robots for social service, can justify this thing.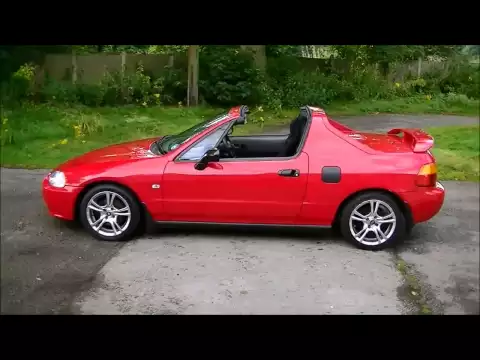 You can't talk about convertibles without mentioning the Mercedes SL-Class. Oh sure, it's not as expensive as the SLS
AMG
Roadster and its roof isn't as tricky to operate as a Lamborghini's, but it comes with a party piece. At the press of a button, the Mercedes says they used electricity to somehow make molecules opaque and transparent, but we still think it's magic.
Sure, the Nissan Murano CrossCabriolet is as ugly as a war wound and talking about it brings us as much pleasure as eating cardboard. But look past the stupid idea and the looks to notice this is a full-size
SUV
with a convertible top, a first if we're not mistaking. It's not designed for safaris, but for cruising up and down Rodeo Drive.
Can a convertible top ever be simple? Yes, extremely so in fact. Based on the Twingo city car, Renault made a little nipper called the Wind. Its roof had only two moving parts and looks as sold as a rock. Despite this and its novelty value, Renault never sold that many, so maybe we're on to something with out "complicated is better" theory. We still like what Renault has done though.