Audi's 2.5-liter TFSI wins the Engine of the Year Award pretty much every time. Why? Well, it's impressive in many ways, but it's also pretty special. Nobody else makes something like this, and only two cars use it, soon to be three. Today, we're going to focus on the sensible, comfortable choice, which is the RS Q3.
It's never been much of a headline grabber. When it was launched, the 310 horsepower setup was found wanting when compared to the 300 hp of the smaller 2-liter used by the S3. A couple of years passed and Audi updated the look and the engine, giving it a more respectable output of 340 PS. But we still don't like the fact that it only comes with one exhaust pipe on the left side. It's like a well-dressed woman with only one earring - it bugs the hell out of you.
So we wondered what company offers the best tuning setup for the RS Q3. Because the model is very expensive and doesn't sell in huge numbers, only a few tuners have tried to play with it.
We particularly like the setup created by the Italians at Supersprint because they've installed a butterfly valve and a dual exhaust system. It sounds much throatier with the valves opened and can still pretend to be discreet. Everything is made from stainless steel, but it's quite expensive, considering the downpipe alone costs €1,921 plus vat. Did we mention the tips are 150mm wide, and you now have 360 hp to play with?
The MTM Audi RS Q3 is also impressive, and we think it's even won a few tuning awards in Germany. Its defining characteristic is the top-end growl, but the power isn't bad either. When the whole tuning package is put together, you end up with 410 horsepower. Unfortunately, you will be paying a hefty price, as the M-Cantronic engine mod costs €3,357 ,while the exhaust system will set you back €4,699.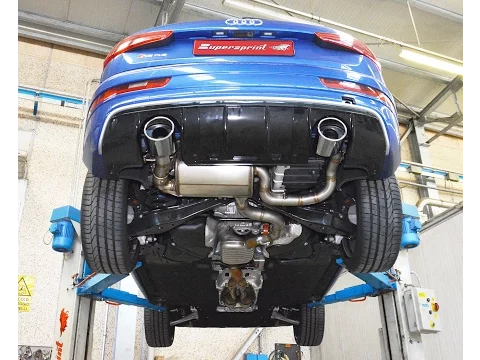 ABT setup comes a distant third