We don't yet know the motive behind Mercedes-Benz still testing a model that has already been launched and is currently in production, but that won't stop us from snickering with excitement everytime a video of the E63 AMG appears.
The following video, courtesy of TouriClips, shows an E63 4Matic (not sure if the S-model or "the standard", 557 horsepower version) getting its freak on while not drifting all over the place on the Nurburgring Nordschleife.
Apart from the "why still test a car that's already in production?" question, we're also wondering how on Earth does the car remain so planted and corner like being on rails. The 0:22 to 0:26 sequence is pretty much a statement of how efficient the new 4Matic system has made the always tail-happy E63
AMG
.
Another interesting bit happens at 0:47, when the test AMG passes a new F15 BMW X5, which is apparently also being tested, despite being launched months ago. The pair is followed by a future 2-Series Cabrio with camouflage on, so this video was obviously shot during a manufacturer testing session on the old Nurburgring.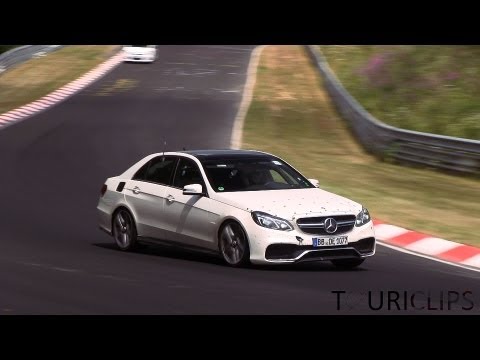 Story via
TouriClips