There's a certain charm to building a colony from scratch on an alien planet after you've crash landed. The colony simulator genre is well represented by games like Rimworld, Craft the World, and Dwarf Fortress, so it makes perfect sense for fans to compare the newly released Stranded: Alien Dawn to any of these titles.
Developed by Haemimont Games, the same studio behind city-builders
Surviving Mars
and Tropico 5, Stranded: Alien Dawn requires less expertise from players, even on the hardest levels of difficulty. Although it doesn't go as deep as Rimworld when it comes to the building options, the game is easier and more streamlined to accommodate all kinds of players.
In Stranded: Alien Dawn, you guide a group of survivors who have just crashed on an alien planet. It's the same scenario that many of these games have used in the past, but since this is a full-fledged sandbox experience, there's not much of a story behind it. Before you jump into the game, though,
Stranded: Alien Dawn
lets you define the parameters of your scenario and choose the group of survivors to take with you on an alien planet.
It might not seem so at the beginning, but this is a very important part of the game since each survivor comes with their own skills, strengths, and weaknesses. This is one of those games where people start crying if they only eat emergency rations scavenged from your crashed ship for a very long time. Some might be vegans, while others require meat from time to time.
There's a lot to consider when choosing the planet where you want to start building your colony. Some have been overrun by lush vegetation and have the perfect climate for growing various types of crops, while others are arider and lack many of the basic resources and conditions that a starting colony might need.
More importantly, there's a "pacification" toggle that you can use to completely remove attacks from the local fauna. If you just want a peaceful experience that doesn't involve erecting defense buildings like turrets and walls, this is one way to obtain it.
I've played through multiple scenarios, and I have found that the best strategy is to build my first colony as close to the crashed ship as possible to cut down on the time required to move all the scavenged resources. Sometimes it can be just a temporary base if the terrain isn't suitable for building a much bigger colony, but it saves a lot of time to have a deposit near the ship.
Time is one of the most valuable resources in Stranded: Alien Dawn. There's no certain recipe for success in this game, you just have to figure out for yourself what to build and research first. Well, except for shelters for your survivors, which should be the first thing you build after you land. Food is the most important resource at the beginning of the game. A large amount of emergency rations can be scavenged from the ship, but your survivors will need some cooked meals too from time to time.
Keeping your survivors healthy and happy is one of the many things you need to pay attention to in Stranded: Alien Dawn. Survivors can have breakdowns for various reasons, especially if they are overworked and don't have enough entertainment (or not at all). I was surprised to see how my first colonists could find relaxation and refreshment in the simplest ways. Singing or just watching the local flora and fauna can provide much-needed moments of respite.
Although you'll be starting with small shacks without roofs, a pretty vast research tree will help you build the colony of your dreams. In between bug attacks, breakdowns, and random exploration events, your colonists can research various technologies that will help raise their quality of life and, of course, their chance of survival.
Conclusion
Stranded: Alien Dawn is one of the best
colony simulators
not only because it covers a wide range of crafting and research options typical for survival games but also thanks to the streamlined gameplay mechanics. Although it doesn't provide players with step-by-step guides on what to do first, it does a decent job at introducing the core mechanics and the best way to use them.
The game certainly lacks narrative elements, but it makes up for it with a great overall presentation. Perhaps more scenarios would've increased its replayability, but I'm not truly worried about that because Stranded: Alien Dawn does feature support for mods. I can't wait to see what the community comes up with in the coming months.
Its only fault is that the endgame quickly turns into a tower defense if you don't play with the "pacification" option enabled. Also, there are no other humans or alien species on any of the planets in the scenarios, just flora and fauna.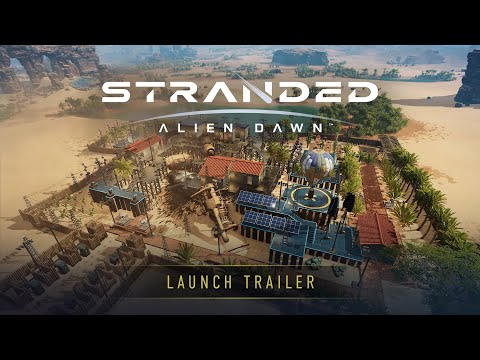 RATING: 80/100