We know what happens when you compare the
Subaru WRX STI to a Golf R
, but what about their lesser companions? Today, we are going to look at a review that could only come from Australia, a market that remains friendly to Japanse imports and has a passion for European cars as well.
The Levorg is part Impreza, part Legacy, and part WRX. This GT-S model even has the 2.0-liter boxer engine from the WRX model, complete with its 8-stepped
CVT
gearbox and symmetrical all-wheel-drive.
It joins the fight as the clear favorite, as its rival is the Skoda Octavia RS, powered only through the front wheels and down on grunt, despite having the same type of engine.
The advantage of the Levorg's boxer engine is that it lowers the center of gravity. The disadvantage, however, is that the configuration places the cylinders further apart, thus increasing turbo lag.
Because it's based on the
MQB
platform, the Octavia's engine has more man hours put into it. Thus, it's able to deliver more torque and superior fuel economy numbers. Another area where it reportedly shows the Levorg how it's done is interior built quality and cargo space (66 liters more in the Octavia).
To be fair, the comment regarding the engine noise isn't fair, as the Octavia RS only sounds better because it has a special speaker that directs sound into the windshield. Also, Subaru claims a 0 to 100 km/h time of 6.6 seconds, while the Skoda takes 7.1 seconds, something which isn't mentioned in the video.
As for price, we had to do a lot of digging, since Australia is one of the few markets where the
Octavia RS
and Levorg GT-S can compete. At AU$41,890 with the DSG gearbox, Skoda's wagon is exactly AU$7,000 cheaper than its rival. It's quite funny, considering that these two were conceived on opposites sides of the work and in total isolation from each other.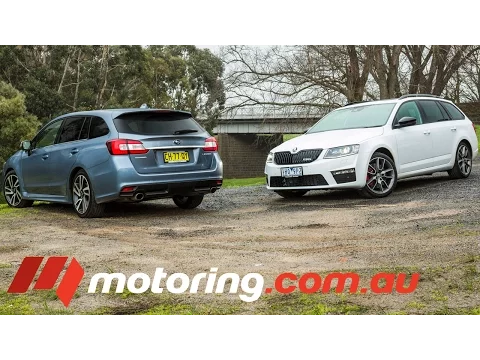 How about a Czech drag race?