It's often been said that Cupra models are fast and not as exciting during the ten-tenths phase as their Renault counterparts. But that's doubly true for the hot Ibiza, a car that's gone out of production.
SEAT has enjoyed a great couple of years, and that has been backed up largely by the resurgence of the Leon in the family car category. Not only is the Leon Cupra offered in a ridiculously wide selection, but it's received almost constant updates.
From the early cars that had 265 PS, all 2017 models come with
300 PS as standard
and the option for an
AWD
system on the
ST wagon
. By contrast, the updates for the Ibiza Cupra have been inconsistent, culminating with a brand new 1.8 TSI engine only a few months after production ended.
With a manual, the baby Cupra reaches 100 km/h (62 mph) in 6.7 seconds and has a top speed of 235 km/h. Meanwhile, the Leon Cupra in this video is not the 2017 model, so it's still got 290 PS. However, that's still enough to outpace the Ibiza by a full second.
But a 1-second gap is understandable when you consider the Ibiza used to start at €23,000 while the Leon's base sticker is €34,000 in SC manual form, rising to over €40,000 for a well equipped ST.
Not only is the smaller car slower, but it's also less comfortable. A Leon Cupra comes standard with the DCC's adaptive damper system and a drive mode selector, while the Ibiza is much less complicated.
Considering that the 290 model has been replaced by the Cupra 300 and the Ibiza Cupra is no more, this comparison is pointless. However, you can pick up a 5-door 280 or 290 with DSG up from many German dealers for €30,000 with fewer than 100 miles on the clock, making it the
FWD
Golf R bargain of the moment. But considering how good the new MINI Cooper S is, we doubt the Ibiza will ever have classic hot hatch status.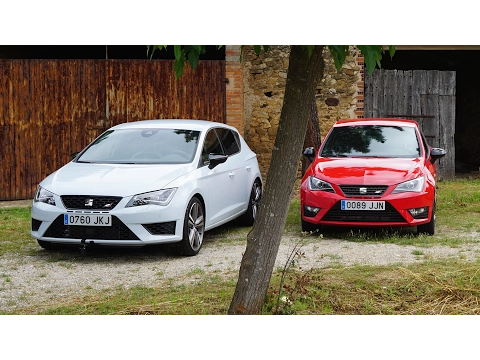 [YOUTUBE=https://www.youtube.com/channel/UCRDjY_6yCZ8lH899DPTsE9A]