Polaris Slingshot will debut in Europe in the final quarter this year, but no specific date was mentioned. If you ask us, Polaris will bring the Slingshot at EICMA 2015, possibly as part of a much stronger presence at the world's biggest motorcycle show.
Last year, only a few Indian and Victory motorcycles were present at Milan in a rather shy display of American bike-making excellence, but something tells us that this is about to change, as there are so many new things in the (huge) Polaris camp.
Wel, enough is enough, let's cut to the chase. First off, Polaris will soon initiate a pre-order program for the Slingshot. We can hope that road legislation in Europe is more permissive for such vehicles. In the US, the Slingshot has had (and still has) a hard time in certain states.
We reported extensively on the law-making efforts Polaris had to put up in these states. In fact, the Slingshot was included in a new category of vehicles called "
autocycle
" and specific road regulations were put in place for it. Still, it is not road-legal in all states at the time of writing.
Power comes from an 173 hp, 2.4 DOHC engine
The open-top, no-doors architecture is surely the best addition to the 2.4-liter
DOHC
automotive engine that brings the Slingshot to life. With a manual, 5-speed + reverse transmission and 173 horsepower at 6,200 rpm, the
Polaris Slingshot
is probably the shortest, most secure way to fill your brain with adrenaline.
Revving the Slingshot to 4,700 yields a torque of 166 lb-ft (225Nm), and thanks to features such as
ABS
, electronic stability control, traction control, speed-sensitive power steering, plus the sway bar, the Slingshot looks like a breathtaking ride.
In the states, the base Polaris retails for $21,199 (equivalent to €19,400), while the SL version is $25,199 (equivalent to €23,100), and the special edition SL LE is one grand extra (equivalent to €)24,000. Polaris has not mentioned the European prices yet, but this info will arrive, soon. Stelvio, Transfagarasan,
Transalpina
, here we come!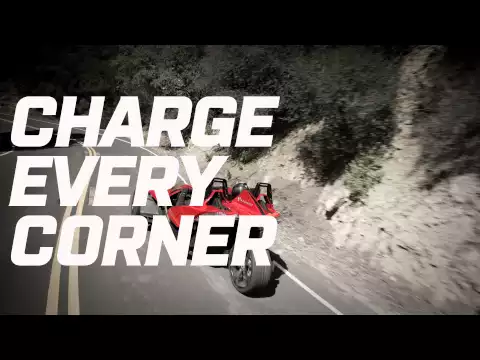 Polaris Slingshot showcase: