It is described as a prototype, and it was developed by NASA to explore the Red Planet. As you can imagine, the new rover will not go to Mars anytime soon, but it is supposed to go there at
a point in the future
.
The organization has not specified if it wants to send the unusually large vehicle to space, or if they showcased a bigger model to prove the
concept
and the key features of the Mars Rover.
The creation looks like it belongs to the DC Comics or Marvel universe, but it is a genuine proposition for this mission. The difference between it and other vehicles of this kind is the idea of implementing a mobile laboratory on wheels, along with life support systems, communication gear, and materials that will endure the severe conditions on the Red Planet.
SeaDek and Parker Brothers Concepts are responsible for the four-seat rover, which is made out of aluminum and carbon fiber. According to the
International Business Times
, it is 28 feet (8.5 meters) long, 14 feet (4.2 meters) wide, and 11 feet (3.3 meters) tall.
The large wheels you see in the video are meant to help it travel over rocks, craters, and dunes. A similar size of tire and rim combination is employed in Arctic explorations, which probably makes sense for Mars.
Regardless, nobody can risk getting a flat tire on another planet, so the wheels are designed to eliminate that possibility. As you can imagine, fitting one of these rovers to a space ship should be a problem, especially if you consider the limited cargo volume of any device designed to send
things into space
.
NASA will probably have to split the shipments into several parts, which is described as CKD (completely knocked down) kits in the automotive industry, and the finished product would be assembled on Mars.
However, assembling a vehicle without welds, glue, and many other solutions employed on Earth will prove tricky for the astronauts, but that is also a problem for designers and engineers.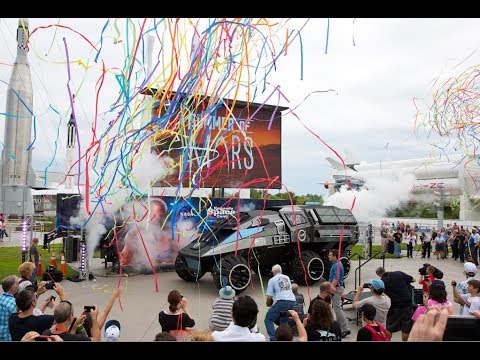 Concept #Mars rover now on display @ExploreSpaceKSC - come see it soon. I really wanted to drive it off the lot @MyNews13 @NASAKennedy pic.twitter.com/uciSshXZBv

— Greg Pallone (@gpallone13) June 5, 2017