Allegoric, antilegomena, legong,prolegomenon, telegonic… all these words (we don't actually know) have something in common. They contain "Lego", and Lego is awesome. It doesn't matter how old you are, you still think it's freaking amazing to look at.
Because we have the attention span of a car and the building skill of a primate, we've never actually mastered the art of building anything special from those tiny blocks, which is why we asked ourselves "what are the most awesome things ever built from Lego?". No wait, "what are the most awesome cars ever built from Lego?" That's it!
At first it seemed like a crazy idea for a story, but after delving into the subject a little bit, we realized it's something that people needed to see. You can make pretty much anything from Lego, a town, a rocket, a helicopter, a station of Michael Jackson or a dinosaur. The pieces have changed over the years but are still as interlockable as DNA strands, they are, for lack of a better word, the building blocks of life in the toy industry.
Bricks built in twenty tears ago lock with ones made today, and kid's kits work with teenagers' sets. This amazing toy technology from Denmark we so easily take for granted is built to minute tolerances that ensure a perfect fit. Obviously, the company makes small,
simple kits that allow you to build an F1 single-seater or popemobile or something, but we don't care about that. We only want to show you the projects that required thousands of man-hours to build and cost their creators their relationships, some body parts and plenty of hair. We want the insane stuff.
Our first stop on the fun train has to be this, a full-scale Lego F1 car. From what we gather, there are more than of these pieces of toy mastery. and they are all spectacular. The one we're showing you is modeled after the 2011 F150 Italia. It took just over six months to design, plan and build, and we think you'll agree that it's extraordinarily accurate, right down to the suspension and the wing on the back. You have to wonder which takes longer to build, the real F1 car or this thing, because if racing teams took that long they'd be out of business. After they were done building it, a couple of real F1 drivers sat in it, and even though they don't look impressed, we love it.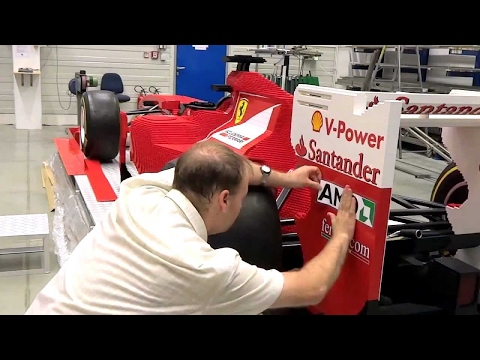 Ferrari F1 drivers don't look very excited, but we are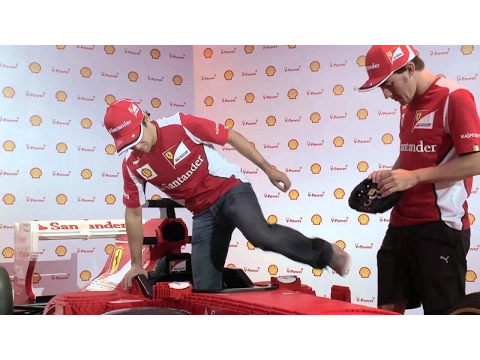 Lego+Volvo=Love
Next up, it's another full-scale creation, a 1:1 model a Volvo
SUV
. Again, there are more than one of these out there in the world. This blue example was built by Volvo North America and Legoland California to "promote driving safety and family values". It was later used to prank a manager who actually had an XC90 of his own.
The monster is built from 201,076 Lego bricks, is designed after the classic 2004 XC90 shape and weighs 2,934 pounds, a bit less than the actual thing. They stole the keys from Legoland California's general manager, drove off with his truck and replaced it with this blue sculpture here. In the video below, you can see a truck delivers it since it isn't drivable. We am just amazed about the details and the perfect lines of this Lego Volvo SUV. It must have been designed on a computer first, because the shapes are just too complicated, or is it just that we're amateurs and don't understand the process.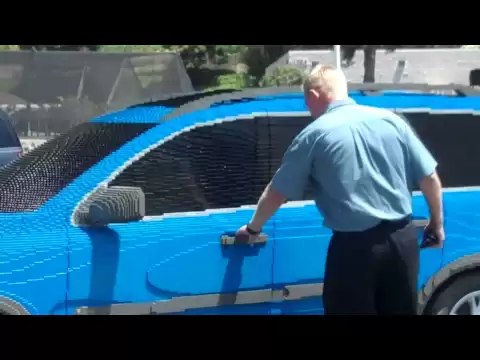 This second Lego Volvo XC90 is red and dates back to to 2006:
After seeing the Volvo, not much could impress us, but this amazing Ford comes close. We're of course talking about the 2012 Ford Explorer that you see in the video below and which was built to celebrate the alliance between Ford and the LEGOLAND Florida theme park.
It's got even more parts, 380,000 of them, and shows even greater attention to detail. The end result weights almost as much as the real deal - a staggering 2,654 pounds (1,204 kg) - so it's probably to heavy to play with in your living room.
Oh, how wonderful time lapse is!
All these cars are a bit too serious, so for our last full-scale Lego car, we're going all silly and toony. This is the legendary Lightining McQueen made with 325,000 bricks and weighing about three tons. It might seem silly spending this much time on a model of a cartoon character, but this thing required no less than 2,000 hours to build and was first shown at the 2011 Manhattan Toy Fair.
We will admit that some of the kids watching the movies might have a problem getting their hands on a third of a million bricks, but it's still something to aspire to if you're a Lego fan(atic).
Good-ol' Lightning here here has a very pretty smile and big eyes, also being complete with the Piston Cup logos designed into the car with actual colored bricks. This NASCAR racer of the cartoon world has a big wing and Lego was also used to make the wheels.
That was all very radical, but no private Lego fan can affor that many bricks, so it's time to show you something a little bit smaller. For about a year, we've been following the work of one Spanish Lego builder who calls himself Sheepo. he's made everything from Porsches to Lamborghinis and even a Mini or a Bugatti, but we're taken with his incredible Land Rover.
This classic retro Land Roer Defender 110 pickup is made up of 3438 including the ones that went into the controller. It required many months of preparation and plans are now available online, so you can build your own if you're dedicated enough.
It's our ultimate Lego car because it's very mechanically complex. Here's what we means: it's got working pistons inside the engine, which in turn is connected to a 5+R speeds sequential gearbox, with auto clutch. The mechanism disconnect the clutch, change the speed and connect it again, pushing only once the controller. It's not perfect, but the car can actually change gears at speed. It also has a two-speed transmission case with low gear for climbing and RWD or
AWD
driving models.