A shocking video was recorded in Taiwan a couple of days back, showing a reckless Mitsubishi driver hitting a scooter and several cars and then simply driving away, to avoid answering in front of the law.
However, one man decided he wasn't going to let him get away with. According to the local media, the Lancer driver previously hit a MINI Cooper S and 4 other cars before reaching the dreaded intersection where he ran over 3 people on a scooter.
The MINI driver had been following him for quite a while and was determined not to let him get away. Apparently, the 3 people on the scooter were a family, with the mother (48) driving, her son and daughter sitting in the back . The mother and son escaped with minor injuries but the youngest member of the family is currently in the ICU with internal bleeding.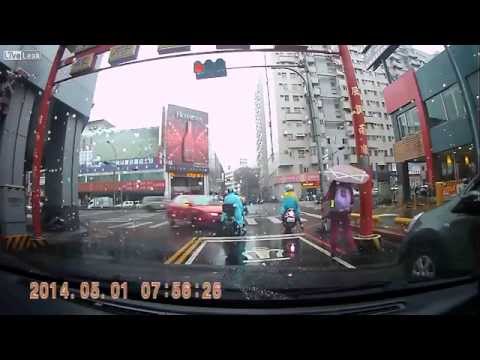 Local news station, TVBS managed to get some footage of the driver after he ran from the accident, with the MINI Cooper S owner still hot on his trail. After abandoning his car, the chase continued on foot, where the younger Cooper owner managed to catch up with the runner and turn him in to the police. The blood alcohol test performed later on revealed that the Mitsubishi driver was intoxicated.