Formula 1 drivers come and go, but the legacy of Michael Schumacher will live on for decades to come. The German racing driver, who has yet to recover from a skiing accident that happened in December 2013, made his debut in the uppermost echelon of motorsport in 1991 with Jordan, at Belgium's infamous
Spa circuit
.
The year was 1992 when Schumacher fought his way to the maiden win, sitting on top of the podium of the Belgian Grand Prix. Little did Michael know that many more wins will follow (91), as well as seven world titles and 1,566 career points. Michael's son is following in his father's footsteps, with Mick currently proving himself in the FIA European Formula 3 Championship.
Born in 1999 and aged 18,
Mick Schumacher
began with karting in 2008, after which he made the switch to ADAC Formula 4 and the Italian F4 Championship. Describing his father as
"my idol"
and
"my role model,"
Mick had a go at trying Michael's Spa-winning Benetton B194 racecar for a change.
Powered by a naturally aspirated
Ford
3.5-liter V8 and tipping the scales at 515 kilograms (1,135 pounds), the B194 is a very different beast from the 2.0-liter engined Formula 3 open-seater Mick is accustomed to.
But for all that, Michael's son demonstrated the car on the 7-kilometer long Spa like he owned the place. The comparison video, uploaded to YouTube by Formula 1, makes it easy to draw a conclusion about Mick's talent.
"I am still smiling, what a feeling,"
Mike commented in an Instagram post after one lap with the
B194 Spec 5
, looking thoroughly impressed by the single-seater's performance. It's a long way to the top for Schumacher's son, but with perseverance and a hunger for improvement, Mick will make it to F1.
On that note,
#KeepFightingMichael
.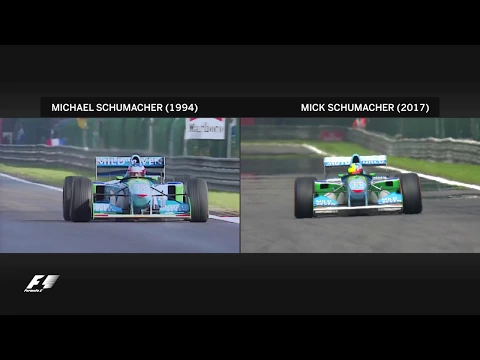 Ich kriege das Lächeln nicht weg, was für ein Gefühl M I am still smiling, what a feeling! @f1 #TeamMS #TeamMichael #KeepFighting
Beim Grand Prix von Spa 1992 hat mein Vater seinen ersten von 91 Formel-1-Siegen geholt. Zu Ehren dieses 25-jährigen Jubiläums werde ich am Sonntag vor dem Rennen dort mit dem Benetton B194-5 fahren, dem Auto seiner ersten WM-Saison. Klar, dass ich das machen wollte! Vielen Dank an die Motorworld Köln Rheinland, die das Auto zur Verfügung stellt! Fotos vom Check am 9. August. #TeamMS #TeamMichael #KeepFighting At the Grand Prix of Belgium 1992 my father secured his first of 91 Formula 1 victories. To celebrate this 25 year anniversary I will do a lap of honour this sunday in Spa prior to the race with the Benetton B194-5, the car of his first world championship season. No doubt I wanted to do that! A big thank you to Motorworld Köln Rheinland for giving us the car! Pics from the test drive on August 9 #TeamMS #TeamMichael #KeepFighting