We could hardly think of a better car than the Lamborghini Miura when it comes to selecting a machine for the cover of an automotive design book. The predecessor of the Countach manages to be one of the sexiest cars our planet has ever been blessed it, while showing the kind of elegance that could make its successor seem less than the visual marvel that it is. As such, the Miura is usuall left in factor condition, but the Tokyo Auto Show has just seen the arrival of a Liberty Walk version of the V12 hero.
From the fat wheel arches and the super-sized chin, to the exagerated camber angle, there are plenty of elements of this Lamborghini that spell "sacriledge" - lens tip to
Street Track Life
for the live images.
Oh, and let's not forget the add-on tail and all the stickers on the car, as well as the wheels, which simply scream "tuner".
Now, before anybody goes searching for rotten tomatoes to throw at the screen, here's to hoping that Tra Kioto, the Japanese automaker behind the said bodykit, didn't mess with one of the just 764
Miuras
in the world - perhaps this is a replica. Nevertheless, while this is purist wishfull thinking, we actually expect the JDM tuner to have used the real deal for making a statement.
Nevertheless, this contraption, which comes with racecar features such as a rollcage and circuit-specific side windows, is more
styling sepuku
than
open-mindedness
.
P.S.: Regardless of how you feel about the LB Walk Lamborghini Miura, we have to mention this is the kind of development that can easily make Marcello Gandini, the man who penned the Miura get over the visual shortcomings surrounding the Urus - ou can see the iconic designer sitting inside the new Lambo
SUV
in the Instagram image below (the explanation in the image is provided by Mitja Borkert, who currentl helms the automaker's design efforts)
And if you're not sure that the Urus's design isn't as close to the Lamborghini spirit as the company's supercars, it's enough to notice the similarities between the rear end of the Raging Bull and that of the upcoming
Audi Q8
to understand this.
Update:
It turns out this is a Miura replica, with the chassis and the engine coming from a Ford GT40 replica - the body was completely redone, but the cabin was not. And you can get a complete look at the thing in the live video below (jump to the 1:45 point for the Lambo-related action).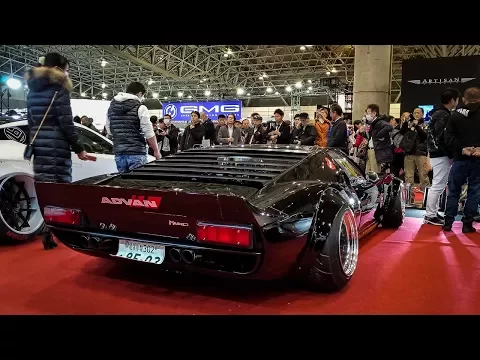 #talkingdesign #lamborghinidesignlegend #marcellogandini #centrostilelamborghini #lamborghini #urus @matthiasmederer @ramp.space @michael.koeckritz