When Christian von Koenigsegg said that he doesn't like 'normal' hybrids earlier this week we wondered what the hell he was on about. As the Geneva Motor Show creeped in we got to see exactly what his words meant when the veils were pulled off his latest creation: the Regera.
What we have here then could as well be counted as the world's fastest car ever put in production even though no official attempt to write its name in the Guiness Book of Records was done so far. So, what are we looking at then?
Well, this is a hybrid all right but it does things in its own way. The 5-liter V8 biturbo plant from the Agera R, S and RS was kept on but it is now joined by three electric motors as well that have a more than important job to do.
The total output is rated at
1,500 BHP (1,521 HP) and over 2,000 Nm of torque (1,475 lb-ft)
of torque that is divided into 1,100
HP
coming in from the 5-liter internal combustion engine along with 1,250 Nm (922 lb-ft) of torque along with 700 HP and 900 Nm (663 lb-ft) of torque from the electric motors.
Introducing Koenigsegg Direct Drive
The whole 'not normal hybrid' thing of Christian is reduced to the Koenigsegg Direct Drive system. Basically, the man wanted his car to be silky smooth and remove gearshifts as much as possible. Therefore, he created a direct hydraulic coupling for the
ICE
that basically works as a single gear box that sends the power to the rear wheels.
How does it work? Well, the car starts off from a halt using the electric motors alone that are each powering a wheel on the rear axle. The third one also acts like a starter and once the car is on the roll, as it reaches higher speeds, the hydraulic coupling starts to engage, sending power from the combustion plant to the rear axle as well.
It might seem crazy but the numbers Koenigsegg provided are simply stunning:
- 0 to 62 mph (100 km/h) takes 2.7 seconds due to traction limitations (this is a rear-wheel drive car after all)
- 0 to 186 mph (300 km/h) takes 12 seconds
- 0 to 250 mph (402 km/h) takes under 20 seconds
- going from 150 to 250 km/h (93 mph to 155 mph) takes 3.2 seconds
Impressed yet? Oh, and we haven't even talked about the design and all the other crazy features such as the world's first fully foldable top mounted active rear wing, the Akrapovic exhaust, the 9
kWh
battery or the 1,420 kg (3,130 lbs) dry weight... This is an absolutely out of this world vehicle.
The price tag sits at
$1,890,000 (€1,690,733)
and only
80
will ever be built, four of them already being accounted for, before the customers even got to see what they are buying. One thing is for sure, the future Bugatti has a pretty high bar to reach...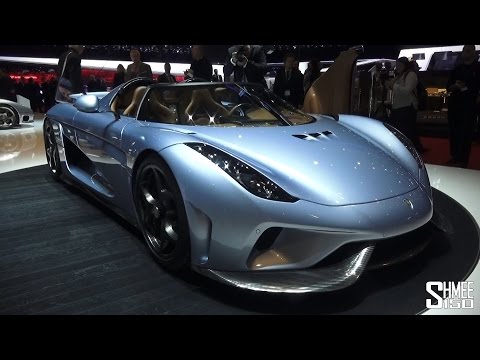 UPDATE: we added some live photos of the car straight from the Geneva Motor Show and they simply don't do justice to this MegaWatt hypercar... This thing is insane!