The new Tesla Roadster is going to be the fastest car in the world, and surely the next hotly anticipated model from Elon Musk's company. However, it's also at least a year away from launch, which means only a few people have even seen it in the flesh.
Luckily, comedian, talk show host and all-around car fanatic Jay Leno was invited Hawthorne, California where he met up with the Tesla chief designer, Franz Von Holzhausen. This is the video that came out.
Like any good story, this one talks about the past, present, and future. It starts with the original Roadster, which cost $100,000 and was the stepping stone for the Model S. Of course, Leno has a different perception of the car than us regular plebs. He remembers how people talked about George Clooney shocking everybody by overtaking them in some kind of mystery car.
Leno notes how all the best technologies start with the rich and then trickle down to everybody else. Thus, the "$35,000" Model 3 is his next focus of attention, as the comedian notes it drives just like the more expensive Model S.
And finally, we arrive at the all-new Tesla Roadster, a $200,000 car that promises to beat every supercar. It's got some very impressive headlines, like 10,000 Nm of torque from three electric motors, 0 to 60 in 1.9 seconds, 600 miles on a charge and a quarter-mile in 8.8 seconds. Leno finds that last one particularly funny, but he's not laughing when the Tesla designer puts the pedal to the metal. A brief glimpse of terror appears on the 68-year-old's face, since they are launching towards a metal garage door and brick wall.
But you know, those who can afford a weekend roadster costing $200,000 must be pretty loaded. We want to live in a world where Tesla makes a $35,000 Roadster, not another toy for Clooney.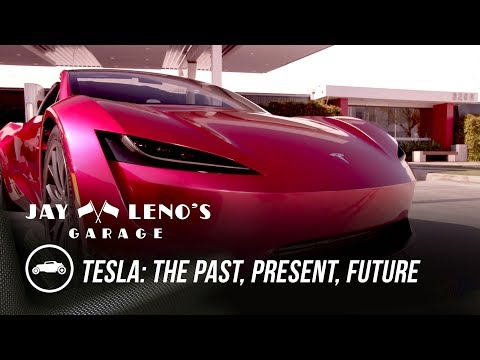 3 motors.
10,000Nm of torque.
Top speed of 250+ mph.

The 2020 Tesla Roadster is more like a fighter plane. #JayLenosGarage pic.twitter.com/LjgtMESQ8d

— Jay Leno's Garage (@LenosGarage) August 24, 2018