Damien Walters is a famous athlete turned stuntman who has worked in several Hollywood productions in which his talent was put to good use.
This time, the British gymnast turned stunt specialist worked with Formula E to achieve a world premiere. Walters backflipped over a Formula E car that was driving at 103 km/h (64 MPH).
The stunt was performed ahead of the race held in Mexico City last month, but the video of the event was published today on Formula E's official YouTube account.
To the best of our knowledge, Damien Walters is the first person ever to perform a blind backflip over a car. It does not matter if it was a Formula E car or anything else, as the challenges involved are staggering.
While most jumping stunts happen with the performer facing the vehicle, Walters increased the stakes to a death-defying level and stood with his back to the speeding car.
Furthermore, the former gymnast with a specialization in acrobatics and trampoline did not wear any safety equipment while performing the stunt.
While we do not condone such risky behavior, there is an explanation for his lack of a helmet and protective gear - it would have ruined his balance, and there is no safety equipment suitable for being struck by a car driving at 100 km/h.
The promoters of the electric Formula 1 published two versions of the video, the second clip being a 360-degree experience, which we recommend viewing on full screen for maximum enjoyment.
We cannot stress the importance of never attempting such stunts in real life
. Even if you have some acrobatic skill, Mr. Walters is a trained athlete and has prepared with the aid of an entire team to ensure he takes the jump at precisely the right time.
Among the secrets used by Walters was a clock, which he could see and aided him in coordinating with the Formula E car. If Damien Walters inspires you, you can find him at the Derby City Gymnastics Club, run by his father, where he trains youngsters in the field of gymnastics.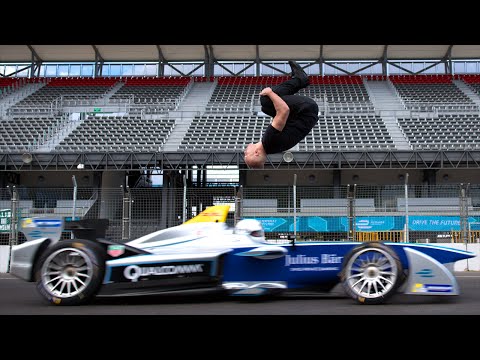 360-degree Video