Perhaps taking cues from BMW's M Performance catalog,
Infiniti
has begun to give its customers the option of a better-sounding exhaust system. The latest comes in the form of a dedicated kit for both the new Q60 coupe and the 2016 or 2017 model year Q50 sports sedan, positively impacting the sound and weight of the cars.
The officially designated Sport Exhaust Kits look like something you'd buy from a good tuner. They're made from polished T-304 stainless steel, thus improving the aesthetics of the cars. The versions without mufflers cut about 16 pounds of weight, while the one with mufflers which is only for the sedan reduces it by 9 lbs. But both are easily installed using the factory mounts.
"
Oh, but I don't have one of the cool V6 models
," we hear you say. It's not a problem, as Infiniti has versions for every Q50 or Q60 it makes, including the 2.0t that makes 208 horsepower, the 300 horsepower 3.0t, and the 400 horsepower
Red Sport 400
models. There's even one for the Q50 Hybrid sedan!
The next time you schedule your service, you might want to have a quick chat about the exhaust systems because they are pretty cheap. The one without mufflers is only $589, not including installation, while the one with mufflers for the Q50 is $681. A similar kit for the Q60 with mufflers is expected later this year, says Infiniti.
"The Infiniti Q50 and Q60 are great driver's cars, and we know some of those drivers want to take performance to the next level, which is why we've introduced these Sport Exhaust Kits,"
said Andrew Speaker, director, Infiniti Aftersales.
"These exhaust kits offer the more aggressive sound many Infiniti drivers crave, and the reduced vehicle weight enhances the already fun-to-drive experience of our sport sedan and coupe."
We've got all sorts of videos for you guys, including one from a customer last year. As you can see, there's not muffling going on, even with the Q50.
Straight pipes: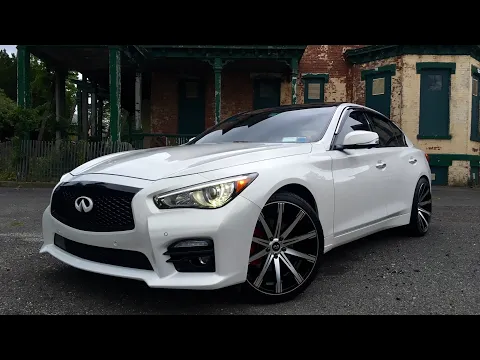 Last year's Q50 Sport Muffler Kit