IIHS
, one of the two most important safety testing organizations of the USA, has compared three of the world's most favorite muscle cars.
We are talking about the famed American trio, formed by the
Chevrolet Camaro
,
Dodge Challenger
, and
Ford Mustang
. Instantly recognizable, known for performance and the ability to provide a thrill through driving experience.
But just how safe are they? Well, the
Insurance Institute for Highway Safety
put them to the test and was not particularly impressed with neither of them.
The
IIHS
does not typically test sports cars, because they have a small market share in comparison to other models. However, these three are the best-sellers of their class, and insurance data shows that sports cars have high losses when they crash.
Another concerning aspect was that they had the greatest damages among passenger vehicles for crash repairs under collision coverage. The latter refers to physical damage that occurs to the at-fault policyholder's vehicle in an accident.
As the organization points out, none of the models of this trio achieved the scores required for a "
Top Safety Pick
" award. We are not even going to mention the "Top Safety Pick +" distinction.
IIHS notes that the Ford Mustang was the closest of the pack to the "Top Safety Pick," while the Camaro fell short in one category, along with lacking an available front crash prevention system. Meanwhile, the Dodge Challenger was deemed as being "in most need of improvement."
While getting a better score than the Mustang at the small overlap front impact, the Chevrolet Camaro had an "Acceptable" rating for roof strength, the same as the Challenger. Because of this, Chevrolet's 2016 Camaro was not as close as the 2016 Ford Mustang for the "Top Safety Pick" distinction. Concerning front crash prevention, the Mustang and Challenger were rated as "Basic," while the Camaro has no available systems of this kind.
On the positive side, the Camaro, Challenger, and Mustang did earn good ratings for passenger protection in a "moderate overlap front crash," as well as a side impact. The only crash test where these models did not impress was the small overlap front test, which is the most recent introduction to IIHS's repertoire and the most difficult one of them all.
In the crashworthiness evaluation mentioned above, the Mustang earned an "Acceptable" score, while the Camaro received a "Good" rating. The Challenger was rated as "Marginal." The latter lost points because its front wheel was forced into the occupant compartment, and the resulting intrusion trapped the dummy's left foot and deformed its ankle.
The IIHS has explained that the technicians had to unbolt the model's foot from its leg to set it free, and this kind of entrapment is pretty rare. According to the IIHS's press release, this only happened five other times since they begun testing this new procedure, four years ago.
2016 Chevrolet Camaro 40 mph small overlap IIHS crash test
Overall evaluation:
Good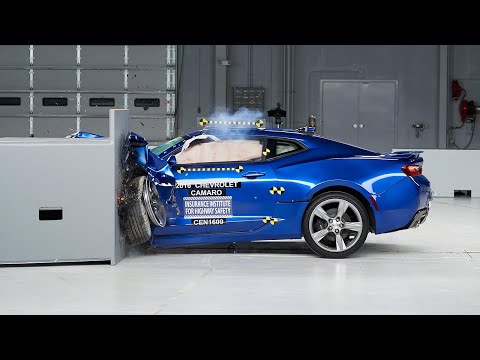 2016 Ford Mustang 40 mph small overlap IIHS crash test
Overall evaluation:
Acceptable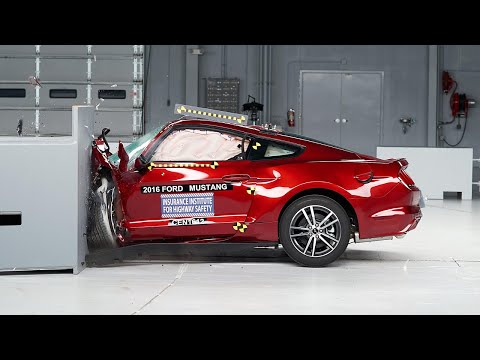 2016 Dodge Challenger 40 mph small overlap IIHS crash test
Overall evaluation:
Marginal