People often ask me for advice about buying a new car or motorcycle. And I always tell them the same thing: what's its final purpose? And narrow your list of options to three machines, and test each one. Don't buy a supersport bike if you only plan on using it to commute to work. Don't buy an SUV if you need a car for the race track.
That all makes sense. In today's age, manufacturers have tried creating versatile bikes and vehicles that can perform in different environments. And the Honda CBR650R is one of those machines. Driving towards the racetrack, I was trying to figure out which bikes I'd choose for the day.
The limit was set at three per journalist, and I knew one of those would have to be the new
Hornet
. The Transalp was second on the list. Even though I knew the CL500 would make for a unique experience, I still had my mind on the Fireblade. I've ridden liter bikes before, a ZX10R and an old R1 Big-Bang.
These were race-ready machines, and I was utterly overwhelmed by their capabilities. With less than 6,200 miles (about 10,000 km) on two wheels in five years, I knew I needed more time to scratch the surface of what a
Fireblade
can do. And I didn't want to ruin anyone else's fun, so I decided against testing this bike, at least for now, not on the racetrack. But when in Rome, I looked at the CBR500R, and it didn't strike a chord.
After all, I had just experienced the full oomph of
Honda
's 1,084cc powerplant 30 minutes earlier. That being said, I had only one other option: the CBR650R. I was immediately shocked at how small it felt compared to the big adventure bike, but that's what you would expect from this class. I was relieved to hear the inline-four cylinder firing up, and my brain instantly switched to race mode as I started giving it some revs before exiting the pitlane. But go ahead and watch the video below if you want to get a POV perspective of how the 95.2 horsepower bike feels like on the racetrack.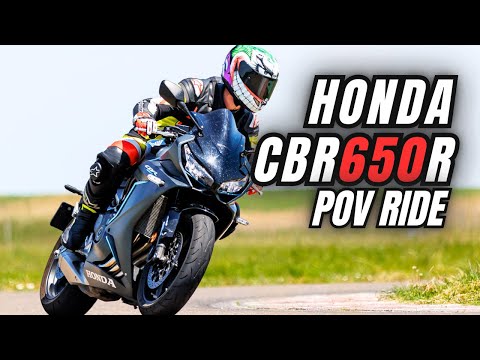 The CBR650R has the spirit of the old CBR600RR but without a threatening aura. And that feeling would persist for the next six laps. That may lead to different opinions, depending on your riding experience. It's not as visceral as the old RR, but it's not supposed to be either way. Coming off the Africa Twin, it felt slower down the main straight, but I still took it up to almost 111.8 mph (180 kph).
The CBR650R delivers precise handling and an almost race-ready soundtrack while being user-friendly. This could be your safest bet if you're
inexperienced but dreaming about a supersport bike
. It doesn't feel like it's trying to kill you every time you go too crazy with the throttle, and it's not as exhausting as a more traditional supersport. I've been dreaming about owning a Daytona 675i for years, but I don't want to deal with all the drawbacks of a bike like that.
Still, the CBR650R could fill the gap if I needed a bike for track duty and hitting the twisties with the gang. The hardcore bikers of yesteryear might not take lightly to it, but it will still do what it was built for, regardless. People will still ask for a new RR over the coming years, but environmental concerns might make that dream impossible.
I rode three different Honda bikes during this test day: the CB750 Hornet, the Africa Twin, and the CBR650R for 16 laps. That adds up to about 41 miles (66 km) spread over almost two hours. Practice makes perfect; you should only push a bike within your riding skills. Ten years ago, I would have jumped at the opportunity of experiencing the Fireblade; now, I'm excited about a long trip on the Africa Twin.
The CB750 Hornet is an excellent choice for urban riding, but I wouldn't venture halfway across the continent on it. Preferences change over time, and I've realized that sports bikes aren't as attractive to me anymore. I'd ride one occasionally, but there may be better choices with the current state of public roads.
I've always been a big Honda fan when it comes to cars, but I've never ventured too deep into their motorcycle line-up as I have now. I look forward to learning more about these bikes and sharing my discoveries with you in a future story. Until then, you can enjoy more photos from our Honda experience at the racetrack and this short video of the new
CL500
(the SCL500 in North America): raw sounds for a cold start, and some revs can be heard inside.
This bike has a starting MSRP of $6,799 before taxes ($400 destination charge and $200 freight surcharge). This modern scrambler could be the perfect entry point for a beginner rider or someone who wants to cruise around town in style.