Here is some food for thought for you. Which one of the following bikes would be scarier to ride: the first-generation CBR900RR FireBlade or the 2022 CBR1000RR-R Fireblade SP? They both have similar weight figures, the new bike offers considerably more impressive performance figures, but it also comes with a suite of rider aids. While we digest that idea, we plan on coming up with an answer by the time this riding season is over.
Until then, let's look back at our Honda Test Day experience, where he managed to ride several of their new bikes, including the new 2023 CB750 Hornet, the
CBR650R
, and the CRF1100 Africa Twin. If you have already subscribed to our YouTube channel, you might have also seen the CL500 and the XL750 Transalp.
But we encountered one more motorcycle that day: the
CBR1000RR-R Fireblade SP
. This is the 30th Anniversary Special mode, which features the classic Fireblade colors and several upgrades over the standard model. We wonder if Tadao Baba, who designed the first FireBlade, has yet ridden this new one.
While we didn't take it out on the track for a test ride, we fired it up to show you what it sounds like, albeit in the lower rev range. Looking around the paddock, we noticed a local Road
Racing
team (BMR) working with Honda had brought over their competition-spec Fireblade. So we thought we might as well take both of these bikes out for a quick shoot, as there wasn't much time left until the next session was coming in.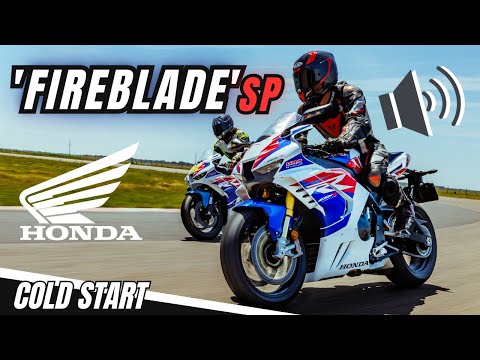 One of the two riders is locally known as a genuine wonder kid, as he has been racing on two wheels for several years now. The 23-year-old is about to graduate from the University of Polytechnics, where he has been a student for the past four years. And before asking him any questions about the Fireblade SP, we were curious about his early introduction to motorcycles.
"I was four when my mom first sat me on a pocket bike. You see, she's a former road racing and karting champion herself. I went through several enduro motorcycles for the next few years. But when I turned 16, I could start competing on a Yamaha R6. That was my first contact with a high-speed bike, but I was far from its maximum potential. My fastest lap around the local racetrack clocked in at about two minutes and 10 seconds."
By 2019 Robertino had decided to increase his seat time, so he also entered the 300 cc class of his local championship.
"Dealing with two bikes during the same weekend was pretty complicated.

You can't ride a 300 cc bike like a 600 cc one. I was crowned National Champion on my limited Ninja400 and took P2 in the Eastern European Championship in the same category. I also got as high up as P6 in the previous series' Supersport category and a P3 in the National Supermoto Cup."
When he's not attending class or racing his bikes, Robertino is either out riding his street motorcycle or working on other such machines. He has proven himself year after year by winning various titles and awards, with his mother always by his side. From his early days of two minutes and 10 seconds a lap, he can now run the same layout in one minute and 43 seconds on a similar 600-cc setup. But he will probably shatter that Personal Best of his by the end of the year.
"I've just joined Team BMR, and their CBR1000RR Fireblade suits my riding style perfectly. It usually takes time to get used to moving up a class, and this is also the first time I've got access to various rider assists. I've never used wheelie control before, for instance. Right now, I'm 0.2 seconds away from my previous record, but I've only had two race weekends with the Fireblade. I finished P6 in the first one and P8 in the second."


Honda had brought Robertino in to interact with people keen on test-riding the bikes onsite. So he also managed to squeeze in a few laps throughout four days.
"I must have ridden the CBR1000RR-R for about 30 laps that week."

"It's effortless to ride, feels light, and is quite rider-friendly. The brakes and suspension are phenomenal; I could always count on it performing what I wanted. Even under extreme braking, it inspired confidence. At some points, it felt like a race bike to me."
Although Robertino has a Triumph Speedmaster 800 for commuting around town, another machine piqued his interest during the Honda Test Day: the
X-ADV
. Riding a race bike every other weekend has that effect on people.


"I loved every minute of it. I was surprised at how much grip there was, even while cornering at high speeds. The DCT transmission has got to be brilliant through everyday traffic."
Alas, enjoy our photo gallery from the event, as we'll get back to you with a full review of the
Fireblade SP
soon.