When you have a rocket prototype estimated at some $220 million explode upon landing, you probably wouldn't think the test flight was a success. But that would mean you're not looking at the bigger picture.
SpaceX's Starship prototype was just destroyed during a test flight, but the flight itself was still deemed a success. In fact, the SN8 prototype's test flight out of the SpaceX Boca Chica testing facility was history in the making, literally paving the way to
humans colonizing Mars
in the foreseeable future.
The unmanned rocket prototype took off at 5:45 pm ET and spent some six minutes in the air. During this time, it was able to reach the 41,000-foot (12.5-km) height goal, do a belly flop and then flip back into a vertical position so as to attempt a soft propulsive landing. Everything went smoothly until that point – in fact, as you can see in the YouTube video below, it went better than anyone at SpaceX anticipated.
To be fair, Elon Musk did say that the rocket could – and maybe would – explode on landing, and this turned out to be the case. SN8 dropped out of the sky/free-fell for what felt like an eternity (the belly flop maneuver), before it reignited the engines and flipped back vertically for the landing. That's when one of the engines gave out, and SN8 crashed into the ground, getting engulfed in a giant ball of fire.
The atmosphere was still wildly celebratory, though. As
Musk himself
points out on Twitter, the explosion (and subsequent destruction of the $220 million prototype) did not take away from the fact that the test flight was a success, as it allowed collecting important data that will be used for future test flights. Call it a rapid unscheduled disassembly, if you will.
"We got all the data we needed!"
Musk writes on Twitter.
"Congrats SpaceX team hell yeah!!"

Musk is hoping that the first unmanned Starship
mission to Mars
will take place by 2024. "Mars, here we come!" he posted to Twitter after the explosive landing.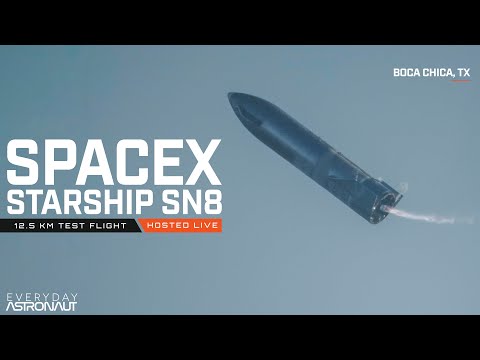 Fuel header tank pressure was low during landing burn, causing touchdown velocity to be high & RUD, but we got all the data we needed! Congrats SpaceX team hell yeah!!

— Elon Musk (@elonmusk) December 9, 2020
Thank you, South Texas for your support! This is the gateway to Mars.

— Elon Musk (@elonmusk) December 10, 2020