Massive floods have swept across the state of
Louisiana
, and over 20,000 people had to be rescued after they were placed in dangerous situations.
According to Governor John Bel Edwards, the water is going to rise in many areas, and this is not the time to let the guard down. While rescue operations are still ongoing in some parts of the state, and numerous citizens had to be moved to safer locations, let's take the time to look at one particular rescue operation.
A group of boaters spotted a
Mazda
MX-5
that was about to sink. They approached the vehicle with their vessel, and a courageous man named David Phung jumped into the water to rescue the driver.
Fortunately, the car had a soft-top roof, which was sliced open with a knife. The 26-year-old rescuer managed to extract safely the woman that was in the vehicle. As soon as she caught a breath of air, she requested for someone to help her
dog
get out of the submerged vehicle.
Luckily, Mr. Phung was extremely prepared for this emergency, and he managed to grab the dog and rescue it. According to
NBC News
, the woman and her dog are well. Meanwhile, David Phung and his colleagues are trying to find a replacement fuel pump for their boat, so they can rescue as many people as they can.
The video of the rescue we discussed in this article was filmed near Baton Rouge. Unfortunately, not all individuals in need of
rescue
in Louisiana managed to get help on time, so four people lost their lives during the floods that swept the stated this weekend. Two of those deaths occurred after the submerging of vehicles in the water.
The
floods
have damaged thousands of homes, and the natural disaster was described as "historic," and "unprecedented" by the Governor of Louisiana. This all began because of heavy rain, which started on Friday, and was continued on Saturday.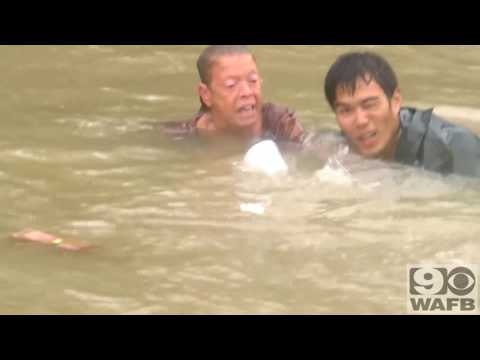 #USCG crews have rescued more than 50 ppl from rooftops, automobiles & trailers due to Baton Rouge flooding. pic.twitter.com/w0SPhgasYa

— U.S. Coast Guard (@USCG) August 14, 2016