Larry Page, the co-founder of Google, is one of the investors in a company named Kitty Hawk, which has just released a video of its first product.
The creation is called Flyer, and it is an electric flying machine. Its makers describe the object as an all-electric aircraft, but it is closer to a flying boat for other reasons.
It will be available to consumers by the end of this year, and you can already sign up as a member on the company's website to get a small discount when it is ready. Unlike other vehicles that can fly, this one does not need a pilot's license, which would have been an annoying thing to obtain even if you are a wealthy individual.
FAA regulations consider it to be an "Ultralight aircraft." The idea with the Kitty Hawk Flyer is that it is meant to fly over water, and that any user will be able to learn to operate it in "minutes."
Driving a car is not a skill that is learned in minutes, but rowing a boat or riding a bicycle is notoriously easy, so this craft may be created for leisure use in situations where lakes and rivers are concerned.
A three-year membership costs $100, and it gets users a $2,000 discount off the sales price, access to dedicated merchandise and equipment, and even access to a flight simulator. The makers of this vehicle have not specified what happens if you try to operate it on land, or if that is even possible.
As you can observe in the video, which is part commercial, part flight test (the man in the clip is an engineer with Kitty Hawk), the craft does not seem to fly that high, but it may be faster than the average boat, while also being way more fun to use. It weighs about 100 kilograms (220 lbs),
Softpedia
notes, and it can fly at up to 25 mph (40 km/h).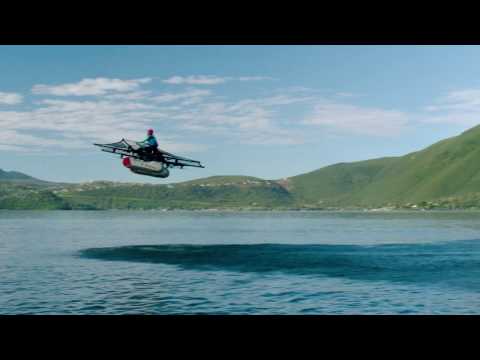 Introducing the Kitty Hawk Flyer! Today we're announcing our first prototype of The Flyer, a personal flying machine that will become available for sale by the end of 2017 and will have a different look and feel. In the meantime, we invite you to join our Flyer Discovery Membership to meet others passionate about the future of flying. Sign-up to get exclusive behind-the-scenes content about The Flyer, attend meet-ups and industry events and be apart of our passionate community. #khflyer