Gibbs Sports plans to add no less than three more amphibian vehicles to its lineup, and they seem to share a lot of nice features with the initial jaw-dropping Quadski.
It looks like Gibbs is trying to deliver an amphibian for pretty much anyone, meeting as many needs as possible and thus making a lot of people happy.
Enter Biski, a motorcycle, not a biscuit
It was only natural that one of the new members of the Gibbs family be a motorcycle. Following the name pattern coined by Quadski, the Gibbs amphibian motorcycle was baptized Biski. A funny name if you ask us, but watching the machine in action will surely put an even bigger smile on your face.
Definitely not a canyon carver, riding the Biski around bends must be done with a certain degree of attention as it looks like it can drag the hull quite easily. Still, the bike appears to be very useable on the road, too, and adding a watertight topcase to increase storage would definitely make it a very purposeful machine for people having to deal with both road and water.
Triski is the amphibian Can-Am Spyder
It's easy to figure out that Triski is a three-wheeler, right? It may be less alluring than a Can-Am Spyder, but it can do a lot more, especially when it comes to where it can ride. Or surf, or float, or... you name it.
Triski is a reverse trike and is a much more commanding presence than the Biski. Wider and more robust, it also vibrates with muscle. The front end is bigger because the two wheels need ampler space to retract when using it in the water, hence the beefier profile.
If the Triski also comes with stability-focused features that imitate the other three-wheelers on the market and can be ridden hard in curves, we might be in for even more fun than we bargained for.
Terraquad, because Quadski was already taken
The Quadski name was already taken by the four-wheeler that started it all, so the new machine was called Terraquad. Unlike Quadski, which was an
ATV
, Terraquad has the two seats arrayed like any side-by-side out there.
The SxS architecture also introduces a cargo bed, thus extending the practicality of this vehicle and making it much more useful for jobs in remote places.
No tech specs yet, save for power figures
Gibbs has not revealed any details about the new amphibian vehicles, save for the power figures for each of them. All the numbers are rated "on water," but we don't know what this means, so far. We can tell you that the Biski is a 55 hp machine, the Triski's engine produces 135 hp, and the Terraquad's 140.
The videos show these three machines being very fast on water, rivaling with leisure speedboats, and we're very eager to find out more info on them. Stay put and enjoy the videos.
Gibbs Biski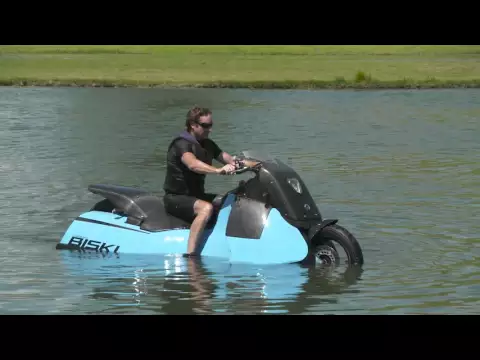 Gibbs Triski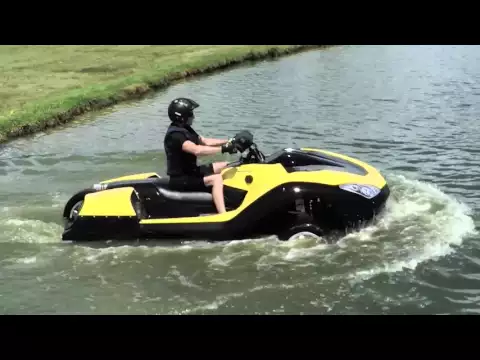 Gibbs Terraquad