It's been less than a year since Forza Horizon 5 received its first-ever expansion, Hot Wheels, and the folks at Playground Games decided to give it another go and take fans of the arcade racer on a new adventure, one that involves a lot of rallying.
As the name suggests,
unlike the quaint Hot Wheels
, Rally Adventure is deeply rooted in the traditional racing competition known as rally. The second major Forza Horizon 5 expansion takes players to the rugged Sierra Nueva, where they will drive rally monsters on both dirt and asphalt tracks.
Along with a brand-new set of races and challenges, Rally Adventure adds 10 new off-road rally monsters, as well as the iconic 1986 Audi #2 Audi Sport quattro S1. To start playing the new expansion, simply set your destination to Rally Adventure icon on the map and drive to the northwest coast in Dunas Blancas.
If this is your first time playing Forza Horizon 5, you'll need to finish the initial experience of the base game before jumping into the expansion. Otherwise, upon completing the first drive in Forza Horizon 5 Rally Adventure, you'll receive your first car, the legendary Colin McRae 2001 #4
Ford Focus RS
.
It's one hell of a car that won me a lot of races in Rally Adventure, but the so-called "Scumbug" offers an enjoyable racing experience as well. The two new cars join eight others as part of Forza Horizon 5's new expansion: 2021 RJ Anderson #37 Polaris RZR Pro 4 Truck, 2019 Jimco #240 Fastball Racing Spec Trophy Truck, 2019 Casey Currie Motorsports #4402 Ultra 4 "Trophy Jeep," 2022 Alumicraft #6165 Trick Truck, 2021 Polaris RZR Pro XP Factory Racing Limited Edition, 2020 Jimco #179 Hammerhead Class 1, 2021 Alumicraft #122 Class 1 Buggy, and
2022 Ford F-150 Lighting Platinum
.
After a short intermezzo in which you get behind the wheels of a 2022 Ford F-150 Lightning Platinum, and a couple of races to familiarize yourself with the tracks, the expansion lets you choose a team that will have an impact on the vehicles you drive first.
If you finish the expansion, you'll eventually not only get to drive all 10 new vehicles but also own them if you complete certain requirements. The driving experience in Rally Adventure is much more technical than anything the game offered until now. It's a step up from the Hot Wheels expansion from that perspective, but if you don't like tracks with lots of sharp turns and hairpins, you'll probably not enjoy Rally Adventure too much.
The entire map of Rally Adventure is embedded into that of the base game, but make no mistake, the tracks are like meanders in a river. Rally fans will be happy to know that they get to fully customize their driving experience by removing the blue driving line from the tracks and switching to manual shifting. No matter which team you choose, you'll be guided by their leaders, who will call-out everything that you need to know about the track you're racing on.
The main goal is to win every race and eventually beat the leader of the team before moving to the next. Once you beat all three team leaders, you become the champion of Sierra Nueva. The progression system is quite clear, as each race you win will unlock a new one, along with side activities to spice things up.
Along with the new cars, tracks, and challenges, Rally Adventures brings a brand-new music station (Epitaph Records) where you'll be listening to The Offspring, while the community creation labs kit is making a comeback. I expect there will be a lot of user-generated content available for Rally Adventure players in the coming weeks and months.
Not to mention that the Rally Adventure introduces a massive number of racing events. Horizon Rally and Horizon Race events include Road Racing (8 Apex Predators tracks), Dirt Racing (8 Horizon Raptors tracks), Mixed Surface (Night only) (8 Grit Reapers tracks), Head-to-Head (3 Ambassador Races with mixed surface cross-country events), Goliath Race (mix of asphalt and dirt surfaces).
Rally Adventure players will also be able to tackle about 20 new PR Stunts, which can be unlocked through Apex Predators, Horizon Raptors, and Grit Reapers, the three teams included in the expansion.
Conclusion
The second massive Forza Horizon 5 expansion, Rally Adventure, is much more grounded than the previous one but offers quite a lot of content. Despite being more of the same, the new off-road racing cars introduced and the new tracks make up for the rather lack of originality.
It makes a nice change to see the gorgeous vistas riddled with tracks that feel like meanders in a river. It's a near-authentic rally experience that I didn't think
Forza Horizon 5
would be able to offer to its players. Rally Adventure is a worthy expansion that deserves at least a playthrough, so it gets the thumbs up from us.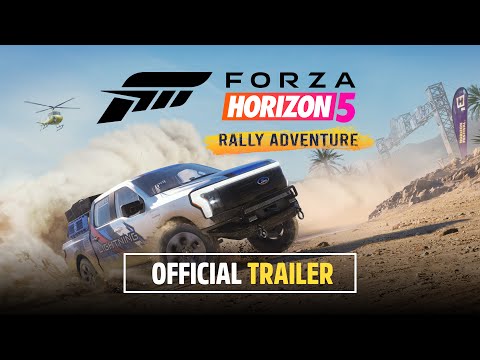 RATING: 85/100