Envy Mr. Bond for his tricked-out rides? Don't worry, your car can also be equipped with machine guns, smoke bombs and oil squirters. Especially if you drive an old diesel and get yourself one of these little aftermarket wonders.
Gatling gun exhaust tips. Yeah, you might have seen them on heavily customized Harleys, but it seems they were also adopted into the four-wheels empire lately.
Don't worry, they won't shoot metal unless your engine starts to break apart from the inside, nor will they make your exhaust sound better. They're just some pipes mounted together and spun by the exhaust gases. To put this into a different perspective, this is just another "cool" way to increase back pressure and make your engine more inefficient.
While these will perfectly fit a custom military-themed bike, as some of you have seen on the American Chopper TV show, the same might not be true for your mom's Civic or your dad's Subaru.
Which brings us to the TIP OF THE DAY: if you drive anything else than a custom chopper or a zombie-apocalypse car, don't make a fool out of yourself and stay away from gatling exhaust. These and the rest of the
cheap mods
we talked about before.
Just take a look at this...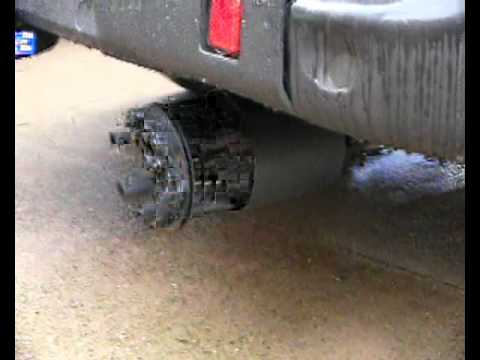 So you got a blue stock Fiat Doblo(the car shown in the clip above) and thought a machine gun spinning at the back will make it as mad as a hell-spawned creature. Well, you missed the point by a mile compared to this...