Diesel engines don't have the rough reputation they do for no reason. They are like the donkeys of the industry, hardworking and not very pretty to look at, but capable of getting the job done.
In today's auto industry, some companies offer units that are as small as a single liter of displacement. At the exact opposite end of the scale, we have something like this, the 10,000 cubic inch Enterprise DSG-36.
It has nothing to do with the DSG gearbox or the USS Enterprise from Star Trek. It's an industrial machine built by Enterprise Engine and Foundry, which made these monsters near San Francisco beginning in 1917.
The engine has a 12-inch bore and a 15-inch stroke, meaning that the cylinder is exactly a foot wide. That's about 270-something liters per cylinder. In normally aspirated form, the engine produced 600 horsepower, and there was a turbocharged version with closer to a thousand.
According to the poster on YouTube, it hadn't been started in 30 years, and it seems to have started right up. It almost sounds like it's not firing on all the six cylinders, probably because the fuel lines haven't been bled of air.
Though the Enterprise company was more well known for marine engines, this one is a factory stationary unit with a generator, and likely the only one still working. DSG is an abbreviation Diesel Stationary Generator. This engine does not have the provision to run backwards like marine engines, and the flywheel and crankshaft are much larger.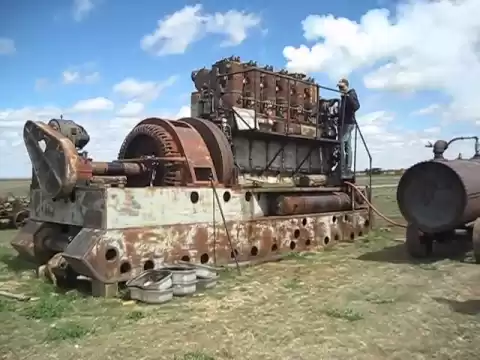 If that hasn't quenched your thirst for diesel, how about this: